Northern Ireland happiest place in UK says ONS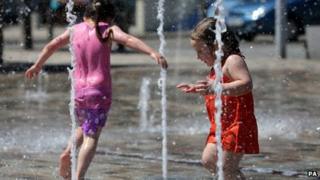 People in Northern Ireland were happier than those in any other part of the UK last year, a survey has suggested.
A third of people in Northern Ireland rated their life satisfaction as nine out of 10, said the Office for National Statistics.
England scored lowest for life satisfaction, while Scotland was rated the least anxious country in the UK.
It is the first time differences between UK nations have been published.
The ONS used data from the Annual Population Survey from April 2012 to March 2013 which included the responses of around 165,000 people.
Four questions to monitor personal well-being in the UK were asked:
Overall, how satisfied are you with your life nowadays?
Overall, to what extent do you feel the things you do in your life are worthwhile?
Overall, how happy did you feel yesterday?
Overall, how anxious did you feel yesterday?
People were asked to rate the questions 0-10, where 0 was "not at all" and 10 was "completely". The survey took place between April 2012 and March 2013.
While 33% of people in Northern Ireland rated their life satisfaction at 9-10, Scotland came second with 27%, Wales third with 26.8% and England last with 25.6%.
Wales, however, had proportionately more people than any other nation in the UK who rated their life satisfaction as low.
The ONS said Wales had the highest level of unemployment among the UK countries at 8.4% between February to April 2013.
In response to how worthwhile people felt their lives were, Northern Ireland triumphed again with 37.6% choosing the most positive responses, while Wales, England and Scotland followed with 31.9%, 31.2% and 31% respectively.
For happiness, Northern Ireland was again well ahead on the score board, followed by Wales with 31.7%, Scotland with 31.2% and finally England with 30.7%.
Northern Ireland came a close second to Scotland however in levels of anxiety. Four out of 10 Scots rated their anxiety levels as just 0-1.
Happy in Hampshire
In England, the southern county of Hampshire scored some of the highest average levels of personal well-being.
Bath and North East Somerset, Cornwall and Rutland also registered high scores in the four questions.
The lowest personal well-being rates were found in Stoke-on-Trent, inner London, Blackburn and County Durham.
In Wales, Gwynedd, the Isle of Anglesey and Pembrokeshire were the happiest areas, while Newport, Blaenau Gwent and Caerphilly reported low levels of happiness.
In Scotland, Eilean Siar, Orkney and Shetland, Dumfries and Galloway and Highland registered higher levels of well-being against the less happy areas of North Ayrshire, Dundee City and Glasgow City.