Benefit cap 'not encouraging work or saving money'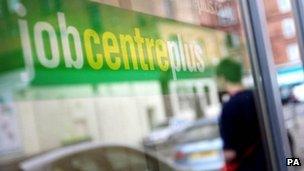 The government's benefit cap will struggle to meet its aims of encouraging people into work and saving taxpayers' money, a report suggests.
The Chartered Institute of Housing (CIH) looked at the London borough of Haringey, one of four pilot areas.
It said just 10% of 747 households affected were known to have found jobs and nearly 50% got extra funds from the council to make up for money lost.
Work and Pensions minister Mike Penning said the report was "flawed".
The cap, on the total amount of benefits that non-working people aged 16 to 64 can receive, is being rolled out across England, Scotland and Wales - starting in Haringey, Enfield, Croydon and Bromley.
Couples and lone parents will now not receive more than £500 a week, while a £350 limit applies to single people.
The CIH's research showed that:
The amount lost by the 747 households subject to the cap ranged from 15p to £374.50 per week
51% of households lost between £50 and £199 each week
About 2,300 children were affected by the cap, with larger families losing the most
Only 74 households were known to have moved into work, while 11 increased their hours sufficiently to avoid the cap
The researchers said there was evidence that the cap was changing attitudes to employment, but for many claimants there were significant barriers to finding work, such as a lack of job-seeking skills and affordable childcare.
Nearly half of capped households claimed Discretionary Housing Payments from the council to help them pay their rent, which the CIH said "both shunts costs between national and local government budgets and masks the true impact of the cap until those discretionary payments run out".
Chief executive of the CIH Grainia Long said: "The government said the benefit cap would save money and encourage people into work, but this report shows it is far from achieving both of those aims in one of the worst affected areas.
"There have been whispers that the government is considering lowering the cap or increasing the amount of hours people must work to avoid it.
"Unless ministers commit to increasing support for people looking to get back into work and funding for childcare this would be very dangerous."
Claire Kober, leader of Haringey Council, said: "Only a few households have been able to get back into work and, while the government may be making some savings, the real costs are just being passed to local councils already under enormous financial pressure.
"People still need a lot of support to get training or back into work and spiralling housing costs mean there is a long way to go before anyone could claim the benefit cap is working."
However, Mr Penning criticised the report, telling BBC Radio 4's Today programme: "I don't understand why we are looking at something so early on in one very restricted London area, which just happens to be Labour-controlled, which is said not to be working."
And the Department for Work and Pensions said the research did not take into account people who were helped to find a job before the cap came into force.
"This research relies on early and limited data from a single council and completely ignores the fact Jobcentre Plus has helped 16,500 claimants nationally into work who were potentially affected by the benefit cap.
"We do not recognise this report as providing a sound or reliable picture of the reform."
The benefits cap applies to people receiving jobseeker's allowance, child benefit, child tax credits, housing benefits and other key support from the government.
There is no cap on people who receive Disability Living Allowance or its successor, the Personal Independence Payment, as well some other benefits, such as industrial injuries benefit or a war widow or widower's pension.
Haringey Council has said it was given £1.8m by the government in the first year to provide discretionary payments and ease cases of hardship.
But it estimated that in this year alone it would have to add £2m of its own money to pay for the changes, which it said was not sustainable in the longer term.
Related Internet Links
The BBC is not responsible for the content of external sites.