Alps murders: Efit of motorcyclist to be released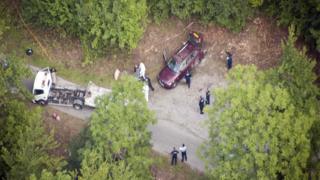 French police are to release an image of a man wanted in connection with the murders of four people in the Alps, the BBC understands.
Three members of the al-Hilli family - a father, mother and grandmother - were murdered at point blank range, near Annecy in September 2012.
The BBC's Hugh Schofield said police told French press they had the efit at the start of the investigation.
"It was not released for fear the man would disguise himself," he said.
Saad al-Hilli, 50, was shot with his wife Iqbal, 47, his mother-in-law Suhaila al-Allaf and French cyclist Sylvain Mollier near Annecy.
His daughters Zainab, seven, and Zeena, four, survived.
Prosecutor Eric Maillaud told the French press the image had been created at the start of the investigation but was not released "for strategic reasons".
He said: "We did not want this person to be alerted into changing his appearance.
"We cannot affirm that this man is the killer. What we do say is that the murders cannot have been the work of a single person.
"The most likely theory is that the motorcycle arrived at the scene ahead of the al-Hilli car after using forest tracks,"
'All in black'
Brett Martin, a former RAF pilot who has a holiday home in the area, was on a cycle ride on 5 September 2012.
He said he saw a motorcyclist leaving the scene of the shooting.
"He was going at a very slow, abnormally slow speed, and at the time it seemed odd," he told BBC's Panorama programme.
A forestry worker coming down from a nearby mountain just minutes before the shooting also spoke to the programme.
He said: "When I arrived, there was a motorbike pulling in to the parking area. I passed the parking and the motorbike was on the left here.
"I remember it well, it was white, white and black, with panniers on either side.
"The rider was all in black [and] his visor was completely closed."
French police have traced all the vehicles in the area that day except two - the motorbike and a grey four-by-four.
Only Zaid al-Hilli, the brother of the driver of the car, has ever been arrested on suspicion of conspiracy to murder.
He denies arranging the murders and has been re-bailed until 15 January, Surrey Police said.