Norway message in a bottle find sparks family appeal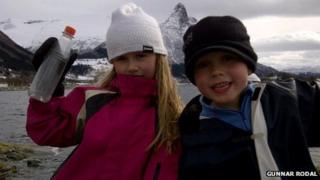 A Norwegian family is trying to trace a British woman who placed a message in a bottle in 1996.
The note written by the then 12-year-old Loretta Brooks from London was washed up off Rjaneset in April last year and found by a sister and brother.
Mia and Martin Rodal, now aged 10 and eight, spotted it while on a walk with their parents but their own postal response did not elicit a reply.
Despite turning to social media, they have been unable to locate Loretta.
"Finding a letter in a bottle is a kids' dream. It is like finding a secret treasure," said Mia and Martin's father Gunnar.
"The kids talked about treasure hunting by the sea, and finding a message that had drifted across the North Sea for 16 years was an exciting experience.
"But we have tried all options we could think of to find Loretta."
It is not known where the bottle containing the letter, dated 14 July 1996, started its journey but it could have potentially travelled more than 800 miles (1,300km) from the UK to Norway.
Mia and Martin, from Oslo, spotted the plastic bottle during an Easter holiday visit to their grandparents, who live on Norway's west coast.
"They were about four metres away but said they could see a message in a bottle," said Mr Rodal, a 42-year-old sales executive. "It was surrounded by slippery rocks so I took it out of the water for them."
In the brief letter, Loretta described herself as a "girl from England".
"I don't know who you are but anyway... What is your name? Send me a letter," she wrote.
Mr Rodal said: "Mia was fascinated by the thought of a 12-year-old girl that she maybe could be friends with. It took a little bit of time to understand that she would not be 12 anymore."
But Loretta did not give her full address on the letter, only including what appears to be an incomplete postcode.
She wrote her address as either London E 436, or London E 43G, England, suggesting she lived in the east of the capital.
Online searches
Despite the lack of details, the family decided to send a response, together with a photocopy of Loretta's letter and the original bottle.
"I added my own address and an explanation on the envelope but we didn't hear anything," said Mr Rodal.
He said: "Of course there is every chance that Loretta had moved and maybe changed her name. But we have tried to find her using Facebook, Linkedin and other online options."
More than a year later, Mr Rodal said he was inspired again to try to trace Loretta after reading a newspaper story this month about a letter dropped into the sea in Cornwall in September 1994.
That letter was found by a remote beach near the town of Hauge in Norway and traced to its sender Lucy Elliot, who is now 31, and living in Northamptonshire.
There have been suggestions that several mistakes in Loretta's letter - use of the word "on" instead of "in", for example - indicate it may have actually been written by a Norwegian child.
Mr Rodal said he "could not rule out the option", but the family was inspired to focus their efforts further afield because "the look and the wear of the bottle, and how fragile the paper was, did not give us any reason to believe it hadn't spent 16 years at sea".