'British FBI' recruiting 400 trainee officers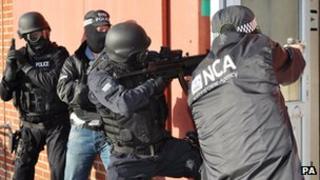 The new National Crime Agency - dubbed "the British FBI" - is launching a campaign to recruit up to 400 trainee cyber and intelligence officers.
New recruits, on a starting salary of £22,407, will undergo a two-year training programme to become officers.
They will work with 4,000 others trying to cut organised crime across the UK.
The NCA, which launched earlier this month, also tackles economic crime, border policing, child protection and cyber crime.
The agency says the posts, based in Warrington and London, are open to over-18s and will be given to those who can demonstrate ambition and aptitude rather than qualifications alone.
Nick S, a 27-year-old technical officer in the NCA's cyber unit, told the BBC: "Each day brings a new challenge and we're pushing the boundaries of law-enforcement capability.
"It's rewarding to see people reading an article on the train about an operation I contributed to."
'New ideas'
Online applications for the NCA can be registered from next month. The window for applying will close after 8,000 forms have been received.
The recruitment process involves a pre-qualifying questionnaire based on security matters.
Those who make it to the next stage face numerical and verbal reasoning tests.
More than 1,000 candidates are expected to be invited to an assessment centre in December for the final tests.
The NCA's deputy director general Phil Gormley said the trainee programme showed it was opening up the agency to "new people and new ideas".
The NCA, with its budget of close to £500m a year, replaced the Serious Organised Crime Agency, which was formed in April 2006.
The agency will now lead the fight against the estimated 37,000 criminals involved in organised and serious crime in the UK.