Pair appear in court on terror charges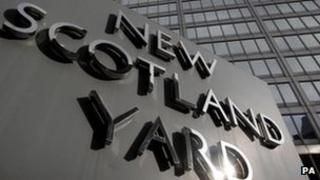 Two men have appeared at Westminster Magistrates' Court charged with terror offences following a police operation.
The men, both aged 25, were arrested in London on 13 October. They cannot be named for legal reasons.
One man, known as "AB", was charged under Section 5 of the Terrorism Act 2006, which relates to preparation for acts of terrorism.
Both have been charged under Section 58 of the Terrorism Act 2000 - relating to possession of terrorist information.
The charge relates specifically to a computer file labelled "bomb making".
The second man, known as "CD" , has also been charged with a further offence contrary to Section 4 of the Identity Documents Act 2010.
Judge Michael Snow referred the case to the Old Bailey on 18 November and ordered that both men be remanded in custody.
The two men were arrested in a car in Mansell Street, Whitechapel, east London, after police fired "Hatton rounds" - ammunition designed to burst tyres and blow open doors.
Two other men arrested during the same operation were released on Saturday.