Tesco says almost 30,000 tonnes of food 'wasted'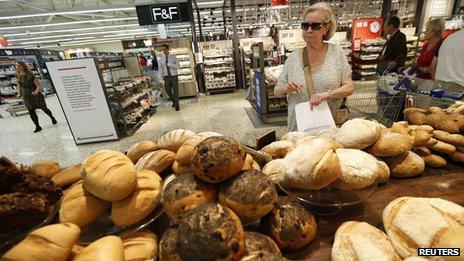 Supermarket giant Tesco has revealed it generated almost 30,000 tonnes of food waste in the first six months of 2013.
Of that total, 21% was made up of fruit and vegetables and 41% of bakery items.
Using its own data and industry-wide figures, it also estimated that across the UK food industry as a whole, 68% of salad to be sold in bags was wasted - 35% of it thrown out by customers.
The retailer is introducing measures to reduce wastage including developing promotions for smaller bags of salad.
The latest figures published by the Waste and Resources Action Programme (Wrap) suggested 15 million tonnes of food went to waste in the UK in 2010. Figures for 2012 will be published next month.
The largest proportion of that - about 11,700 tonnes - was classified as "bakery", and the second largest category, making up around a fifth of the total, was fruit and vegetables.
Dairy products and convenience foods such as ready meals each made up 8% of the waste, impulse buys such as confectionery and soft drinks accounted for 6%, and meat, fish and poultry for 5%.
The remainder of the waste was split between other categories such as alcohol, cereals and frozen food.
Tesco said that, where possible, if food could not be sold it was either donated to poverty charity FareShare, converted into animal feed for livestock, or was recycled into renewable fuel.
Prime Minister David Cameron recently praised the FareShare charity and, on Monday, his spokesman told a regular Westminster briefing: "There will be widespread concern about levels of food that go to waste and that's why the prime minister has noted the excellent work that FareShare does."
Tesco has also given wastage estimates for the 25 best-selling products across the UK food industry as a whole.
The figures were based on waste data from Tesco supermarkets, distribution centres, suppliers and producers - combined with Wrap figures on levels of waste in UK homes.
It estimated that 24% of grapes were wasted between the vine and the fruit bowl and that a fifth of all bananas were unused - with one-in-10 thrown away by customers.
It also suggested some 40% of apples and 47% of bakery items in the UK were wasted.
Tesco said it addressing the problem of waste by ending multi-buys on large bags of salad, removing "display until" dates from fresh fruit and vegetables, using smaller cases in stores, and rearranging 600 in-store bakeries to reduce the amount of bread on display.
And it said it was involved in trials with apple growers to reduce pests and disease.
Other measures to tackle the problem would include providing simple tips to customers about storing fruit, Tesco said.
It said it would also share tips about how to use leftover bread, adding it was working with grape and banana suppliers to improve delivery times and conditions.
Matt Simister, Tesco's commercial director of group food, said there was "no quick-fix single solution" to tackling food waste.
"Families are wasting an estimated £700 a year and we want to help them keep that money in their pockets, rather than throwing it in the bin," he said.
"We're playing our part too and making changes to our processes and in store.
"Ending multi-buy promotions on large packs of bagged salads is one way we can help, but this is just the start and we'll be reviewing what else we can do."
He said Tesco was working with its suppliers to try to cut waste at all stages of the journey from farm to fork.
Richard Swannell, director of Wrap, said: "We welcome Tesco's approach to tackling food waste across their whole supply chain, and by identifying the hot spots they can tackle these areas effectively.
"Food waste is a global issue and collaborative action is essential if we are to successfully reduce food waste and reap the financial and environmental benefits of doing so."
Investigative food journalist Joanna Blythman, meanwhile, said consumers were being "ripped off" by supermarket promotions - especially those involving fresh food.
"What we could say to consumers is 'wise up'," she told the BBC News Channel.
"The minute you walk into the supermarket you may be able to get a few bargains but, more likely than not, you'll be nudged into buying stuff you didn't really want or need and it will go in the bin."
Related Internet Links
The BBC is not responsible for the content of external sites.