NSPCC reports 15% rise in calls from concerned public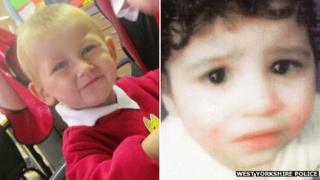 The NSPCC has reported a 15% rise in the calls it receives from members of the public expressing concern about children's welfare this year.
The charity, which had 50,989 such calls this year, wants the public and professionals to act on their instincts if they suspect something is wrong.
It comes after the cases of Hamzah Khan and Daniel Pelka, both four, who died following neglect.
The NSPCC said neglect had been its main area of concern for seven years.
Daniel, from Coventry, died of a head injury in March 2012 after he was starved and beaten for months.
His mother Magdelena Luczak, 27, and her partner Mariusz Krezolek, 34, were both jailed for a minimum of 30 years in August after being found guilty of his murder.
Hamzah's mummified remains were found in squalid conditions at the family home in Bradford, almost two years after after he died in December 2009 due to severe malnutrition.
His mother Amanda Hutton, 43, was convicted of his manslaughter and was jailed for 15 years earlier this month for starving him to death.
The NSPCC said its helpline assisted more than 50 children suffering neglect every day.
Last year, the 24-hour helpline dealt with reports involving 18,345 children who were being so badly neglected they had to be referred to social services or police for further investigation.
Many of the reports involved children aged under five.
'Stinks of urine'
The charity received a total of 50,989 reports from the public who were worried about children's welfare this year, an increase of 15% on last year.
One in five (9,090) of these related to physical abuse, while one in six calls (7,347) were about children at risk of sexual abuse.
The NSPCC said that one woman who contacted the helpline with concerns about a family told a counsellor: "There are flies and maggots in some of the rooms.
"The house is full of unwashed clothes and mess. Their pet dog lives in their bathroom.
"The whole house stinks of dog's urine. The young child can't play anywhere as there is so much mess everywhere."
A neighbour worried about two children aged four and seven said: "The children often go round to other houses in the street asking for money or something to eat for dinner because the mum and dad spend their money on drink and drugs."
John Cameron, the NSPCC's head of child protection operations, said: "The deaths of Daniel Pelka and Hamzah Khan were obviously at the most severe end of neglect.
"But there are thousands of other children who are suffering, many of whom are not old enough to go to school.
"It's extremely worrying that half of our referrals involve children under five, including babies, who rely on adults to speak out on their behalf.
"We urge the public and professionals to continue to act on their instincts when they feel something could be wrong, not wait until they are certain."