Archbishop of Canterbury makes Kenya detour on way to Iceland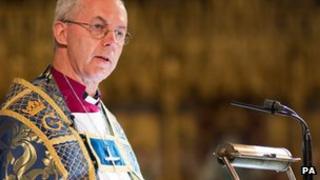 The Archbishop of Canterbury has made a detour of more than 8,000 miles to visit Kenya - on his way to Iceland.
Archbishop Justin Welby, who arrived on Saturday night, gave sermons at All Saints Cathedral on Sunday morning.
He made the "last-minute" 24-hour trip to offer condolences after the Westgate centre attack, Lambeth Palace said.
He is also meeting conservative Church leaders who are in Nairobi for this week's conference of the traditionalist Anglican group, Gafcon.
Archbishop Welby was due to fly to Iceland - via London's Heathrow Airport - on Sunday night.
In Iceland, he will attend a primates' meeting of the Porvoo Communion, formed of churches mainly in northern Europe.
'Offer support'
At least 67 people died when suspected al-Shabab militants stormed the Westgate shopping centre, in Nairobi, on 21 September.
The attack sparked a four-day siege in which large parts of the shopping centre were destroyed.
"The aim of the visit is to offer condolences and encouragement to the people of Kenya and those affected by the Westgate attack and to offer support to bishops in Kenya", a spokeswoman for Lambeth Palace said.
The Archbishop of Canterbury stayed overnight at the home of the Archbishop of Kenya Eliud Wabukala - who is also the current chairman of Gafcon - the Global Anglican Future Conference.
Archbishop Welby delivered sermons at 09:30 and 11:00 before having lunch with the Archbishop of Kenya and five Kenyan bishops.
Gafcon 2013 - the second such conference - will run from Monday to Saturday.
The original conference - held in Jerusalem in June 2008 - was organised in response to the appointment of actively gay men and women as bishops, especially in the US.
'False gospel'
Through the Gafcon movement, conservative Anglican provinces - mostly in parts of Africa but some in South and North America, Asia and the Middle East - have questioned the authority of the Archbishop of Canterbury.
Gafcon has condemned those who preach a "false gospel" which "claims God's blessing for same-sex unions over against the biblical teaching on holy matrimony".
Lambeth Palace said the Archbishop of Canterbury was unable to accept an invitation to attend Gafcon 2013 because of his longstanding trip to Iceland and because he would be baptising Prince George at St James's Palace on Wednesday.
Gafcon leaders have said the archbishop's predecessor, Dr Rowan Williams, was not forthright enough in condemning the appointment of gay bishops.
The Archbishop of Kenya told BBC Radio 4's Sunday programme that Archbishop Welby was "new to us and to the communion".
"I think he is interested in connecting with the activities of the communion and the Gafcon movement is part of those very significant activities that he will not miss," he added.
"I think it's significant that he has recognised that fact," he added.
"We hope things may not work the way they worked last time.
"He has been to various parts in in Africa. He has been to Kenya before.
"I think he has the experience to learn and also to be able to connect."
In March, Archbishop Welby acknowledged that some gay couples have loving, stable and monogamous relationships of "stunning" quality.
He told BBC News he had "particular friends where I recognise that and am deeply challenged by it".
But he said he still supported the Church of England's formal opposition to active homosexuality.
Correction 21 Oct 2013: This story has been amended to clarify that Gafcon remains within the Anglican Communion.