Internet child abuse 'clampdown' by new UK-US agency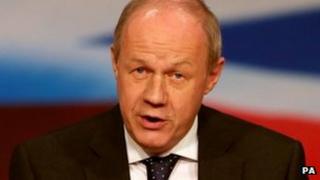 Criminals who trade in child abuse images are to be targeted in a new British-American task force.
Police Minister Damian Green will fly to the US later to formalise arrangements for the new body.
The agency will be co-chaired by Mr Green and US Attorney General Eric Holder.
Mr Green said: "Child abuse and exploitation online are not restricted by borders and our efforts to combat them should not be either."
He went on: "British and American parents rightly expect us to do all we can to protect our children and that is why I want to agree to a much closer working relationship in this area.
"This agreement will only strengthen our ability to crack down on this sickening crime."
Mr Green will sign a memorandum of understanding between the two countries in the next few days.
The Sun on Sunday reported that as part of the trip Mr Green will meet senior figures within the FBI, Homeland Security and other law enforcement agencies.
Internet companies are also being called on to share information with their British counterparts.
Keeping children safe
The move follows the 22 July announcement from Prime Minister David Cameron that most households would have sexually explicit material blocked by the internet provider unless they chose to opt out.
Joanna Shields, UK business ambassador for Digital Industries and a former Google and Facebook executive, will be the industry lead for the project.
She told the Sun on Sunday: "The US-UK Taskforce will play a critical role in taking forward the Prime Minister's commitment to eradicating exploitative material from the internet and keeping our children safe online.
"I strongly believe that industry and government can successfully tackle this problem together.
"I look forward to working with the brightest minds in the industry to develop truly innovative and creative technical solutions that will help protect the most vulnerable in our society."