Archbishop of Canterbury urges energy firm 'generosity'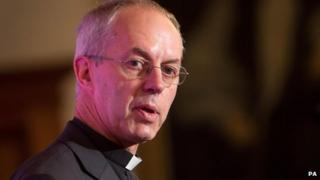 The Archbishop of Canterbury has entered the debate about energy prices by urging firms to act with generosity, rather than just maximising profit.
In an interview with the Mail on Sunday, the Most Reverend Justin Welby said he understood people who found the latest price hikes "inexplicable".
The former oil executive said companies had to "justify fully" their actions.
Last week, British Gas followed SSE's rises with a 9.2% increase in its dual-fuel bill price.
The archbishop told the Mail on Sunday: "The impact on people, particularly on low incomes, is going to be really severe in this.
"I do understand when people feel that this is inexplicable, and I can understand people being angry about it, because having spent years on a low income as a clergyman I know what it is like when your household budget is blown apart by a significant extra fuel bill and your anxiety levels become very high."
Amid predictions that the four other major energy suppliers - EDF, E.On, npower, Scottish Power - will now also raise their prices, Archbishop Welby urged firms to be "conscious of their social obligations".
He added they had to to "behave with generosity and not merely to maximise opportunity".
"They have control because they sell something everyone has to buy. We have no choice about buying it," he said.
"With that amount of power comes huge responsibility to serve society.
"It is not like some other sectors of business where people can walk away from you if they don't want to buy your product and you are entitled to seek to maximise your profit.
"The social licence to operate of the energy companies is something they have to take very, very seriously indeed."
The archbishop, a member of the cross-party Banking Standards Commission, previously suggested the City of London has been affected by a "culture of entitlement" at variance with what others think reasonable and hit out at payday lenders charging high interest rates.
He said he was concerned that fuel poverty was "a very severe issue... because real incomes are flat or declining and the cost of energy has gone up".
"It ties in with the food banks and the debt," he said. "They are all part of the reality of life for many people today."
The rise in energy costs has sparked a huge political debate with Labour leader Ed Miliband pledging a price freeze for 20 months if his party wins the next election.
Prime Minister David Cameron has said he was "disappointed" by the rises but described Mr Miliband's plan as a "con", saying that he did not have control over the worldwide price of gas. He has said consumers should look to switch suppliers to keep bills down.