Newspaper review: Elderly care in the spotlight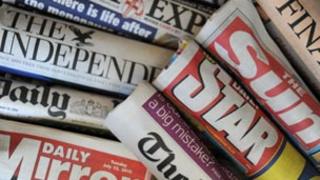 Loneliness and care for the elderly feature in Saturday's papers after damning inquest findings on one home and a speech by the health secretary.
According to the Daily Mail, Jeremy Hunt was absolutely right to argue that the way we neglect the elderly is a "national disgrace".
The Daily Telegraph echoes Mr Hunt's call for the UK to emulate Asia, suggesting we copy the Japanese and have a "Respect for the Aged Day".
His comments came on the same day of an inquest into the deaths of 19 elderly residents at a care home in West Sussex.
The Daily Mirror describes the case of the Orchid View Home near Crawley as "utterly heartbreaking".
It's "Britain's cruellest care home", according the Independent.
Meanwhile, in the Guardian, outgoing Director of Public Prosecutions Keir Starmer launches what the paper describes as "a robust defence of journalists who break the law pursuing investigations that have a genuine public interest".
'Great' Britain lost?
British Gas's price hikes again raise the ire of the Sun, which has an aerial shot of what it says is chief executive Sam Laidlaw's £5m mansion.
"Does a man on a £2.4m salary, planning his second swimming pool, have any idea of the fear old people experience when their heating bills soar?", the paper asks in an editorial.
The Guardian's front page is concerned with the prime minister's pledge that GP surgeries will open from 8am to 8pm, seven days a week. Senior doctors say it is unrealistic and unachievable.
Chancellor George Osborne ttells the Telegraph that Britain has lost its sense of ambition and optimism and allowed "the bits that were great" to wither.
The Mirror and Daily Star lead on the case of what is described as the "stolen" four-year-old girl, found living on a Roma settlement in Greece.
Surprise gig
The Guardian says it has discovered that the Foreign Office has unlawfully hoarded more than 1m files of historic documents that should have been declassified and handed over to the National Archives.
There are lots of pictures of the Duchess of Cambridge, with the papers praising the rapid return of her pre-pregnancy figure.
"Just 89 days on from George's birth and Kate is looking trim in the gym," says the Mail. She's in "mumbelievable shape", according to the Mirror.
And finally, several of the papers also have pictures of quite a large crowd watching a busker in London's Covent Garden on Friday.
But it wasn't any old busker. Sir Paul McCartney gave what the Independent calls a "surprise free gig".