'Hymn dictionary' published century after last version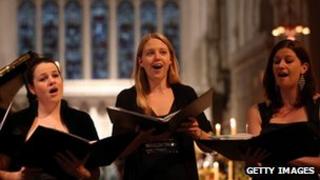 The first hymn dictionary to be written for 100 years has been completed.
It features pop hymns, slave songs and well-known classics like Jerusalem among its 4,000 entries.
The book, which will initially only be available online, took 12 years to compile and was written by academics at Durham and Bristol universities.
Previous attempts to update the last, 1907 edition of the hymnology dictionary all ended badly, the publishers said.
The original Dictionary of Hymnology was published in 1892.
'Everest of hymnology'
Bristol University's Dr Emma Hornby said the new Canterbury Dictionary of Hymnology would be put online in the first instance to give time for corrections and to enable regular updates in the future.
"It was an enormous challenge to get the Canterbury dictionary to this stage, involving hundreds of experts from across the globe, dedicated to making the dictionary as comprehensive and compelling as possible," she said.
The dictionary contains more than 2m words and features over 300 contributors, from 30 countries.
It does not contain lyrics but explains the history and meaning behind the hymns.
The authors said it was intended to be an "essential reference resource for scholars worldwide".
They said the last three people who tried to update the dictionary died before it was completed.
"This is the Everest of hymnology and one of the most sensational aspects of this is that we've done it and survived," said Professor Dick Watson, from Durham University.
"People love hymns, and they are right to do so. For those that have them close to their hearts, this should be a delight as well as a remarkable source of information.
"The new dictionary has been written by people who love hymns too, and that affection is manifested in the effort, detail, and accuracy of the finished project."
The dictionary is being officially launched at an international hymnology conference this weekend.
Organisers said the conference would feature some of the world's most eminent hymnologists.