Spare prison places fall to 800 - Ministry of Justice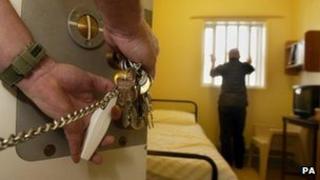 The number of spare places in prisons in England and Wales has fallen to just over 800, official figures have shown.
The Ministry of Justice (MoJ) said the prison population increased by 155 to 84,987 this week while "useable operational capacity" fell to 85,828.
This means there are now 841 places unfilled - last week there were 1,226 spare prison spots.
Labour accused the government of "breathtaking incompetence" over the running of the prison system.
Modernisation programme
The number of prisoners has fallen by 1,306 over 12 months but prison places have dropped even more sharply by 5,246.
BBC home affairs correspondent Danny Shaw said the reason was the government's prison closure and modernisation programme.
There was still enough spare capacity in the system for the next month or so but if the trends continued there could be a real problem approaching Christmas, he added.
The current prison population comprises 81,054 men and 3,933 women.
The figures published by the MoJ include immigration removal centres operated by the National Offender Management Service.
The useable operational capacity - as it is termed by the prison service - is the total jail capacity minus 2,000 places.
This is to take account of the necessity to separate inmates for reasons such as gender, age, security risk and geographical needs.
Jail closures
Shadow justice secretary Sadiq Khan said: "Making sure there are enough spaces in our prisons for all those that need locking up is one of the basics of the job for any justice secretary.
"The public need confidence that when a judge sends someone down for a serious or violent crime they can be locked away securely.
"The government needs to explain where serious and violent criminals will go if there's no space left in prisons."
Last month the government announced that four prisons in England were to close, as the site for a new super-prison in north Wales was revealed.
Justice Secretary Chris Grayling said the jails in Reading, Dorchester, Blundeston and Northallerton would be shut by March next year.
Feltham Young Offender Institution will also be replaced.
The closures mean 1,400 prison places will be lost in England and Wales while the new £250m prison in Wrexham will add capacity for more than 2,000 inmates.
The super-prison would open in four years' time if plans are approved by Wrexham Council.