Madeleine McCann appeal: Police receive 2,400 calls and emails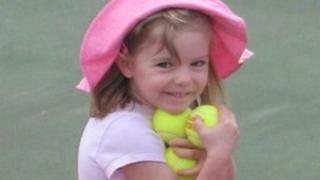 Police investigating the disappearance of Madeleine McCann have received more than 2,400 calls and emails since an appeal on BBC's Crimewatch on Monday.
Writing on Twitter, Det Ch Insp Andy Redwood said further appeals on similar programmes in the Netherlands and Germany had led to hundreds of calls.
Madeleine, from Rothley, Leicestershire, was three when she disappeared in Portugal in May 2007.
Det Ch Insp Redwood has said her abduction could have been pre-planned.
Detectives released two e-fits of a man seen carrying a child in Praia da Luz at 22:00 on the night Madeleine went missing and it was revealed that they now suspected Madeleine could have been taken later than previously thought - just before her mother returned to the apartment to check on her.
Following his appeal on Crimewatch, Det Ch Insp Redwood travelled to the Netherlands and Germany.
Thursday 3 May 2007: Timeline
20:30 Kate and Gerry McCann leave their apartment to have dinner at a Tapas bar
21:05 Gerry McCann checks on Madeleine and her siblings
22:00 A man is seen carrying a child wearing pyjamas heading towards the ocean
22:00 Kate McCann raises the alarm that Madeleine has gone missing
He tweeted on Thursday: ""Over 350 people have phoned into the studio of Opsporing Verzocht, Holland and 500 in Germany on Aktenzeichen XY.
"Those enquiries are now being assessed and prioritised. Any deemed high being actioned."
He added that the police were "very pleased" with the information they had been receiving.
The next stage of the appeal will be in Ireland later this month.
The Metropolitan Police are offering a £20,000 reward for information.
Det Ch Insp Redwood told Crimewatch a number of men had been seen by witnesses in the area on the day Madeleine vanished and one theory was they could have been carrying out reconnaissance.
He said they wanted to track down men seen "lurking suspiciously" near the McCanns' apartment.
The Metropolitan Police say their inquiries have led to the new timeline and "accepted version of events" surrounding Madeleine's disappearance being significantly changed.
The two e-fit images released are of a man a family had seen with a blond-haired child of three or four, possibly wearing pyjamas, heading away from the McCanns' holiday apartment.
Det Ch Insp Redwood said he could be the man who took Madeleine - but there could be an innocent explanation.
He also said there had been a four-fold increase in the number of burglaries in the area between January and May 2007 and one possible scenario was that Madeleine had disturbed a burglar.
Police are also looking at possible bogus charity collectors operating in the area at the time and have released two e-fit images of Portuguese men they would like to identify.
Police have also released e-fit images of two men seen in the area around the time that Madeleine disappeared. Two are of fair-haired men who fit similar descriptions.
The Portuguese police shelved their inquiry in 2008, but Scotland Yard began a review of the case in May 2011 and opened a formal investigation in July this year.