Afghan blast: Soldiers 'unlawfully killed'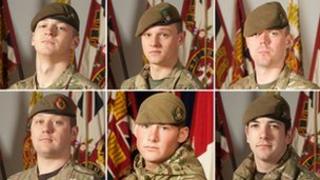 Six British soldiers who died in an Afghan bomb blast claimed by the Taliban were "unlawfully killed on active service", a coroner has ruled.
The six men were on patrol in a Warrior armoured vehicle when it triggered a device on 6 March last year.
Recording a narrative verdict, Oxfordshire coroner Darren Salter said there was "nothing their comrades could have done to rescue or save them".
A series of improvements have been made to Warriors since the incident.
Sgt Nigel Coupe, 33, of 1st Battalion The Duke of Lancaster's Regiment, was killed alongside Cpl Jake Hartley, 20, Pte Anthony Frampton, 20, Pte Christopher Kershaw, 19, Pte Daniel Wade, 20, and Pte Daniel Wilford, 21, all of 3rd Battalion the Yorkshire Regiment.
The attack, which was so powerful it turned their vehicle upside down and blew off its gun turret, was the biggest single loss of life in an enemy attack for UK Afghanistan forces since 2001.
Two Warriors left on a patrol from a base at Lashkar Gah, southern Afghanistan, just after 18:30 local time.
Soon after, the Warrior travelling in front triggered a pressure plate which detonated an improvised explosive device (IEDs).
A fire broke out almost instantly, setting off ammunition inside the vehicle, the inquest heard.
Fellow soldiers tried, in vain, to put out the fire and get into the bombed vehicle.
The inquest heard evidence from pathologists who said the men were likely to have been killed or rendered unconscious immediately by the blast.
"This, of course, is a tragic loss of these six soldiers and these young lives," Mr Salter said.
"At least it is very clear from the evidence of the two pathologists and the evidence of those who witnessed the strike that they did not suffer."
He said he was "not going to second-guess decisions of commanders in a courtroom today; that is not the purpose of an inquest".
"These are experienced commanders who took decisions on the ground, balancing the risks and exercising judgements," he added.
He said it was clear "significant steps" had been taken to improve the vehicles.
'Good' vehicle
Oxford Coroner's Court heard on Thursday from Warrior expert Maj Douglas Nelson who said it had been "a very large device - and what I would say is, no vehicle that we had was designed to take that".
He said that, while the Mastiff armoured vehicle was specifically designed with improvised IEDs in mind, the Warrior was "infinitely more capable" of fighting at night, when the attack took place.
Maj Nelson was among a number of soldiers who told the inquest they felt safest, when on patrol, in a warrior.
"Of any vehicle, I would travel in Warrior," he said.
"It's as good as we can make it."
He said improvements made to the vehicles since the attack included thicker armour, better fire-fighting and detection systems and improvements to ways of getting out in an emergency.
Improved fuel tanks were also being fitted to the vehicles, he added.
The inquest heard that, when the order was given to leave at 18:00, Pte Kershaw had volunteered to take the place of another soldier, who was just returning from a shower.
Speaking after the verdict, his mother, Monica, said it was "a pure quirk of fate that Chris should have been kitted up and got into a patrol for which he was not intended".
"I am still struggling with this but how like him to be ready to do his duty for his fellow soldiers," she said.
And Emma Hickman, who has battled to prove her fiance, Pte Wade, fathered her daughter before he was killed in the incident, said: "From the struggle to establish Lexie's identity and hearing all the evidence it has been an exhausting ordeal and still we have not come to terms with our loss."
The Ministry of Defence released Pte Wade's DNA last year so Ms Hickman could prove paternity and put his name on the birth certificate of their daughter, Lexie-Mai.
Warrior armoured vehicle

Source: British Army

Crew:

Three, plus seven fully equipped soldiers

Speed:

Max speed of 75km/h, average speed 40km/h

Weaponry:

Turret-mounted cannon, anti-helicopter chain gun and eight portable Light Anti-Armour (LAW) or anti-tank weapons

Armour:

Shielding on front, sides and underneath gives extra protection