Newspaper review: Prisoner votes ruling weighed up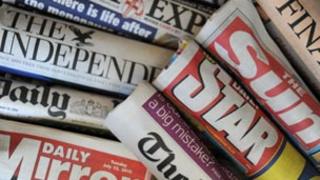 A Supreme Court decision to dismiss the appeals of two prisoners seeking the right to vote draws the attention of some of Thursday's papers.
The Sun welcomes the decision but worries the UK will "buckle to the Euro meddlers of Strasburg", who "insist that a voting ban for all lags" is against European law.
In the Daily Mail, Tory MP Dominic Raab writes: "Even when we win we still lose".
He says the judges decreed that British courts must "comply with Strasburg rulings" rather than just take them into account, which he says has been the position till now.
The Times is also concerned by the small print, saying the prime minister's promise that prisoners would not get the vote under the coalition government "should prevail".
Britain should withdraw altogether from the jurisdiction of Strasbourg and allow our own Supreme Court to "live up to its name", says the Express.
'In chaos'
Meanwhile, the Guardian has seen a leaked copy of an Ofsted report into the controversial Al-Madinah faith school in Derby, which describes it as "dysfunctional" and "in chaos".
Another leak makes the front page of the Daily Telegraph which says its seen a secret Ministry of Defence report warning that a recruitment crisis could affect the Army's capability.
And at the Times, an intervention from Prince Charles on pensions makes the splash.
He apparently warned the "current focus on quarterly capitalism is becoming increasingly unfit for purpose" and said the next generation of pensioners - including his own grandchildren - could be "consigned to an exceptionally miserable future".
A former police officer has told the Daily Mirror that "there wasn't a copper in Leeds who didn't know Jimmy Savile was a pervert".
Ex-PC Paul Leonard says Savile once told him: "Clear off, I'm waiting for midnight when she turns sixteen."
'Own goal'
The Telegraph finds the decision by Royal Mail workers to go on strike, within days of the company's successful floatation, "almost hard to believe" and an "own goal".
On the other side of the Atlantic and with a deal struck in Washington to end the budget crisis, the Times believes that, while President Obama has won a political victory, he would be wise not to gloat.
The Tea Party "has a point" on the president's over-spending, the paper says.
A member of the Bank of England's monetary policy committee has told the Guardian that interest rates could conceivably rise next year.
Spencer Dale, the bank's chief economist, says the desire to keep borrowing costs low for several years could be thwarted if stronger-than-expected growth is combined with unusually weak productivity.