Prince George's christening timings announced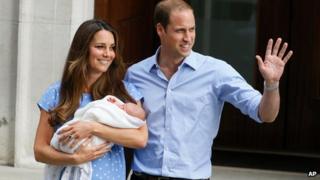 The Duke and Duchess of Cambridge have announced the timings of their son's christening on 23 October.
The baptism of Prince George will take place at 15:00 BST in the Chapel Royal at St James's Palace and last about 45 minutes, Kensington Palace said.
The Archbishop of Canterbury, the Most Reverend Justin Welby, will perform the christening at the private service.
The prince, who was born on 22 July at St Mary's Hospital in London, is third in line to the throne.
High-ranking royal babies including the Queen, the Prince of Wales and Prince William have been christened at Buckingham Palace in the recent past.
Princess Beatrice was the last royal baby to be christened at the Chapel Royal, in December 1988.
In 1997 the coffin of Prince William's mother Diana, Princess of Wales, lay before the chapel's altar before her funeral in Westminster Abbey.
The Chapel Royal is also where Queen Victoria was married in 1840.
The chapel was originally constructed by Henry VIII when he built St James's Palace. A number of alterations were carried out in 1836, with the current oak panelling dating from this time. In 1876, replica pews were installed to replace decayed Tudor ones.
Photographs
Prince George will be christened in a replica of the intricate lace and satin christening gown made for Queen Victoria's eldest daughter, Victoria, the Princess Royal, in 1841.
The Earl and Countess of Wessex's son Viscount Severn became the first royal baby to wear the new robe at his christening in 2008
The guest list for the christening has not been released but Kensington Palace has said "close members of both families" will attend.
The names of Prince George's godparents are also yet to be announced.
Following the christening, a picture will be released showing the Queen with three future monarchs - Prince Charles, Prince William and Prince George.
The last time such a gathering of a monarch and her three heirs occurred was in Queen Victoria's time.
That photograph, taken at the christening of the future Edward VIII in July 1894 showed the royal baby with his father, later George V; grandfather, the future Edward VII; and great grandmother, Queen Victoria.
Meanwhile, the Royal Mint is to create a set of commemorative coins to mark the christening.