Ex-policeman investigated over Savile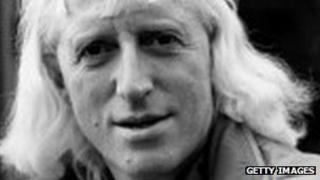 A former West Yorkshire policeman is being investigated by the police watchdog over claims he intervened on behalf of Jimmy Savile.
The Independent Police Complaints Commission is looking into whether the ex-inspector inappropriately contacted Surrey Police before the force interviewed Savile in 2009.
Savile has been accused of abusing hundreds of victims during his career.
Victims' groups have reacted with fury to the transcript of the interview.
It was conducted by officers probing claims Savile abused girls at Duncroft Children's home in Staines in the 1970s.
It included repeated denials that the former BBC Radio 1 DJ and television presenter had abused women and girls without their consent.
But one of Savile's victims has told the BBC of her shock at how he presented himself in the interview.
"I think he was arrogant, he thinks he's also untouchable," she said. "The police should have probed him more on the questions they asked him."
Review of material
The IPCC investigation follows an instruction from the watchdog to West Yorkshire Police to "record and refer" the conduct of the former inspector, identified in a Surrey Police report as "Inspector 5".
The Operation Ornament report, which was published in February, stated that Inspector 5 contacted Surrey Police on 8 June 2009, said he was "known personally" to Savile, and passed on a telephone number to enable the force to contact him.
He was said to have advised that Savile was available and could be seen at Stoke Mandeville Hospital the next day to conduct the police interview.
The IPCC said it hoped to announce decisions shortly in relation to a further referral from West Yorkshire Police, and in relation to information supplied by a number of other forces.
"This follows our earlier request to forces to review material they hold to establish whether there are any conduct matters in respect of police officers which should be referred to the IPCC."
The watchdog added: "We have been assessing information to determine whether there are any matters requiring IPCC investigation, supplied by the following forces: West Yorkshire, Metropolitan Police Service, Surrey, Sussex, GMP, Lancashire, Thames Valley, North Yorkshire and Cheshire."
The heads of victims' groups hit out after the 2009 interview was published.
Peter Saunders from the National Association for People Abused in Childhood (Napac) said the language used by Savile in the 41-minute interview with Surrey police child protection officers - which included him saying "what you don't do is assault women, they assault you, that's for sure" - indicated his "hatred" of young women.
"The transcript confirms the nature of the man," he said. "If you look between the lines you can see he hates women, and young women in particular."
Children's charity the NSPCC said it hoped that the Savile scandal had changed the way allegations of abuse are handled by police.
"This police interview rings true with what victims have said about Savile," said Peter Watt, the NSPCC's Director of Child Protection Advice and Support.
"Like many sex offenders he was manipulative, arrogant, controlling and dominated this interview."