'Plebgate' and policing the police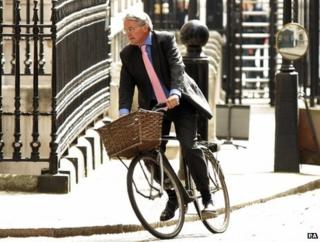 It is interesting that Sir Hugh Orde, spokesperson for top cops in England and Wales, should respond to the "plebgate" fall-out by suggesting the time may have come for an independent police ombudsman such as they have in Northern Ireland.
Three senior police officers have been criticised for apparently giving a false account of a meeting with the former cabinet minister Andrew Mitchell following the incident at Downing Street. Their meeting had been secretly recorded by Mitchell.
What makes this affair so troubling for the police service is less that individual officers may have lied - although that is clearly toxic in itself - but the suggestion that when entrusted with investigating wrong-doing, chief constables did not take appropriate action.
The IPCC is the independent body specifically set up to ensure the police don't abuse their powers and cover-up their own wrong-doing. Its deputy chair Deborah Glass is saying quite clearly that chief constables were mistaken in not pursuing their officers for allegedly trying to stitch up the Conservative MP Andrew Mitchell.
With the home secretary also raising the question of trust, this row threatens to inflict further damage to public confidence in the police.
Indeed, Downing Street has warned of just that.
"Incidents such as this do bring people to question their trust in the police," a Number 10 spokesman said on Wednesday.
And Policing Minister Damian Green has spoken of how the "corrupt behaviour" of a small minority of police officers could have a "corrosive effect on the reputation" of them all and undermine justice.
The chief constables involved point out that they initiated the investigation and had wanted the IPCC to conduct it independently.
However, rightly or wrongly, they were trusted to deal with the matter appropriately, and now they find themselves accused of not taking firm enough action.
The senior officers will put their side of the story in front of the home affairs select committee next week, but the question is bound to be asked - did they act in the best interest of the public or the best interest of their police force?
Their decision not to take action against the officers, in the face of strong evidence of misbehaviour at the least, will be seen in the context of other police scandals in which accusations were made of an institutional cover-up: recent revelations about the Hillsborough tragedy, the killing of Jean Charles de Menezes and the death of Ian Tomlinson.
The question of whether institutions can be trusted to police themselves is a theme of our age - bankers, MPs, newspapers. But chief constables know that their legitimacy is at stake if the public lose confidence.
As the principle ascribed to Robert Peel puts it: "The ability of the police to perform their duties is dependent upon the public approval of police actions."
The "plebgate" affair and its aftermath would appear to put that founding principle in some jeopardy.