Savile interview provokes fury from victims' groups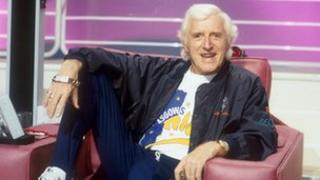 Victims' groups have condemned a police interview in which Jimmy Savile repeatedly denied abusing young girls.
Peter Saunders from the National Association for People Abused in Childhood (Napac) hit out after the 2009 interview was published.
He said Savile was "not only arrogant, but he was clearly running rings around the police."
The NSPCC said it hoped the Savile scandal had changed the way abuse claims were dealt with.
Napac has called for a Royal Commission into the way children are looked after and protected in Britain.
When he was questioned by officers at Stoke Mandeville Hospital in 2009, Savile boasted that he had received police protection against allegations of abuse and brushed women away "like midges".
The DJ, who died in 2011 aged 84, is believed to have abused hundreds of victims during his career.
Mr Saunders said: "He was phenomenally intelligent. I've lost count of the number of people who had encounters with him and described him as manipulative, engaging and charming.
"The kids didn't stand a chance. They were putty in his hands."
'Hatred'
Mr Saunders said the language used by Savile in the 41-minute interview with Surrey police child protection officers - which included him saying "what you don't do is assault women, they assault you, that's for sure" - indicated his "hatred" of young women.
"The transcript confirms the nature of the man," he said. "If you look between the lines you can see he hates women, and young women in particular."
He added: "We should have a Royal Commission into how we look after our children in this country."
Children's charity the NSPCC said it hoped that the Savile scandal had changed the way allegations of abuse are handled by police.
"This police interview rings true with what victims have said about Savile," said Peter Watt, the NSPCC's Director of Child Protection Advice and Support.
"Like many sex offenders he was manipulative, arrogant, controlling and dominated this interview. But the Savile scandal has been a game changer in the way allegations of sexual abuse are handled by the police.
"They have learned a lot and victims who have suffered in silence can feel confident they will be listened to, will be taken seriously and what they say will be fully investigated.
"Recent investigations and prosecutions show that offenders can never feel safe and the police can at any time come knocking at their door, however long after abuse has taken place."
Criminologist Mark Williams-Thomas said that the transcript showed how "controlling" Savile was.
"This is a man who is incredibly controlling," he told ITV on Tuesday. "He makes threats to the police officers. He talks about ... how he owns Stoke Mandeville [hospital]. He talks about how he has had the keys to Broadmoor [high-security psychiatric hospital].
"And he makes a direct threat to the officers that 'if this continues I will take you to the Old Bailey'."
Liz Dux, head of abuse at law firm Slater & Gordon, which is representing 72 alleged victims, told Sky News: "The interview shows Savile to be a man with complete disdain and contempt for those that he was purporting to help."