'Plebgate': Transcript and audio of the Andrew Mitchell police meeting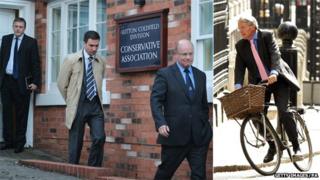 The Independent Police Complaints Commission has published a transcript of a meeting between the former chief whip Andrew Mitchell and Police Federation representatives.
The meeting in October 2012 came as the cabinet minister was under pressure to quit after being accused of calling Downing Street police officers "plebs".
The watchdog says that during the meeting, the officers concluded that the integrity of Met colleagues was "no longer intact". But the IPCC said they left the meeting and told the media that it was the MP's integrity that was in question.
The 45-minute meeting involved the MP and three Police Federation representatives:
Inspector Ken MacKaill of West Mercia Police
Detective Sergeant Stuart Hinton of Warwickshire Police
Sergeant Chris Jones of West Midlands Police
Andrew Mitchell's recording of the meeting
The then Government Chief Whip Andrew Mitchell recorded the meeting he held with the three officers.
Here is an extract of the audio recording.
IPCC extracts of transcript of the meeting
The then-minister begins by saying he wants to clear the air with the police and he repeats an apology already made for his row with the officer at the Downing Street gates.
He says: "I will not as a supporter of the police for twenty six years be put in a position of suggesting an officer is not telling the truth but equally I did not say and I give you my word, I give you my word, I did not call an officer an f'ing pleb I did not say you are an f'ing moron and I did not say you should know your f'ing place.
"I would never speak to anyone like that least of all a police officer and you have my word I never said those things."
He goes on: "I don't want to impugn, it is quite possible that there was a mishearing or something. The incident was very brief. I complied with the officer and I picked up my bicycle.
"But I did say, under my breath but audibly, in frustration, I thought you lot were supposed to f***ing help us and it is for that I apologise, and I am grateful to that officer for accepting my apology.
"I should never have said it and I will never do it again and I think we all of us in our lives occasionally let go and that is when I let go.
"But I don't want to get in to a, who is lying, because of my respect for the police and the fact that this may well have got twisted in translation...
"I am not asking you to choose between two recollections, I am asking you to draw a line so that we can get on and work together in the future because I am one of your local MPs; you're my local fed. I am ask that we draw a line now and get on with that work."
Warwickshire Rep: "We have said today that it is time to move on."
West Midlands Rep: "Are you happy though that those officers made their notes up in accordance with the courts and were they to give their evidence for any reason would expect to rely on those notes in court?"
There is some discussion over the implications of what this means and whether the MP's notes or the police account would be more accurate - with the MP insisting he would have remembered if he had used the word pleb.
West Mids: "It feels to me there is an untruth still and I know you don't wish to impugn those officers but if they have put those words in their notes and they wish to rely on that as their original, as the notes that they would use to refresh their memory in evidence, the court would expect that to be true and accurate."
Mitchell: "Well I can't explain that, you know I just ask you to accept what I have said which is true and I have given my word on that."
West Mids: "We have got bad apples - have we got bad apples in our barrel?"
Mitchell: "I am not comfortable to comment on that I wouldn't."
Warks: "It doesn't feel right that the officers have attributed those words to you if that's not true... All I am saying is that I can understand certain parts being, getting the wrong way around getting words wrong but to get so much fundamentally wrong I mean it is almost like it is a complete falsification."
Mitchell: "Well this is why I did not want to get into this because I think I would be impugning the integrity of a police officer... I am trying not to escalate it. Why I have not been explicit publicly is to try not to have a fire fight with the police."
Warks: "We are where we are, yes it may not have gone to court it may not be used in any complaint but if an officer has written those words in his pocket notebook or in a report and they are false then that is actually a very serious misconduct issue... their integrity is no longer intact."
West Mids: "...I feel really uncomfortable now knowing we have got officers who are prepared to lie on paper to a court... They have committed to paper in a formal record which is held on record within the Metropolitan police an account of events which is blatantly untrue. They have put words in your mouth that are untrue."
Mitchell: "I have made it clear I am trying to deescalate this and not have a great massive row over who is lying and who is not because it seems to me that is not in the interest of the police and it is not in my interest."
The meeting goes on to discuss the law relating to police officers who falsify an account and what kind of criminal offences or misconduct hearing that could lead to.
West Mids: "It should be a misconduct investigation."
Warks: "There is nothing we would like to do more than to draw a line under it but as Chris has said we are now put in a position as Police Officers under our Code. Having spoken to you under our code of conduct we should report this to the Met and say as far as you are concerned we are in possession of information now."
Mitchell: "Well I hope you feel you can say to the nine cameras or whatever it is outside that between us we have drawn a line under this point."
West Mids: "I don't think it is possible to draw a line under it because now we know, and I have said before there are bad apples in the barrel and that affects the integrity of every single police officer in the service and that really does need to be looked at now."
Warks: "I have no choice, my code of conduct to the police is that we have to without exception report the fact that another officer is possibly corrupt. And when I say corrupt I mean he falsified a document and you know tell me if I am wrong as well but as a Sergeant I am not wrong."
Mitchell: "Well you have to do what you think is right and proper."
What the officers said after the meeting