Surrey Police transcript reveals Savile abuse denials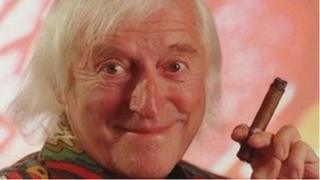 Jimmy Savile used a police interview to repeatedly deny sexually abusing young girls, a transcript has revealed.
Questioned by Surrey Police at Stoke Mandeville Hospital in 2009, the entertainer said allegations against him had started in the 1950s by people "looking for a few quid".
He said he would share letters from those alleging abuse with "senior police" in his hometown of Leeds.
The late DJ is believed to have abused hundreds of victims over decades.
The interview was conducted at Savile's office in the Buckinghamshire hospital's spinal injuries unit on 1 October 2009.
Prosecutors subsequently decided there was insufficient evidence to prosecute him.
'Like midges'
Savile was asked about touching a young girl "sexually" over her clothes at Duncroft Children's home in Staines in the 1970s, and forcing her to give him oral sex.
He repeatedly replied: "Oh! Out of the question" when the allegations were put to him.
"The main allegations are completely fictional; in fact they are made up," he told officers.
Savile said that when he was presenting Top of the Pops and Radio One, "what you don't do is assault women, they assault you, that's for sure, and you don't have to, because you've got plenty of girls about".
"So dealing with something like this is out of the question, totally wrong," he continued.
Savile said the allegations had only surfaced because his accusers were after money.
Describing his "litigiousness", he explained his "policy" of threatening his accusers with court action.
"There's women looking for a few quid, we always get something like this coming up for Christmas, because we want a few quid for Christmas right," he told police.
"And normally you can brush them away like midges and it's not much of a price to pay for the lifestyle."
Savile said: "I've never done anybody any harm in my entire life, cos there's no need to.
"No need to chase girls, I've thousands of them on Top of the Pops, thousands on Radio One. No need to take liberties with them, out of the question and anyway it's not in my nature."
Asked if he was sexually attracted to underage girls, he replied: "No. Exactly the opposite."
But, talking about the girls at Duncroft, he added: "Well they all came from wealthy parents, so you didn't really bother whether they were 16 - what the hell they were - because they all seemed like adults".
Powerful friends
Savile went on to boast to police that he was in charge at Stoke Mandeville.
"I own this hospital, NHS runs it, I own it and that's not bad," he said.
A West Yorkshire Police report earlier this year found no evidence the Leeds-born DJ was protected by the local force.
However in the 2009 interview, Savile talked about having "where I live in Leeds, a collection of senior police persons, who come to see me socially".
He told the interviewers he showed them "weirdo letters" from people wanting to blackmail him.
"They don't keep them very long, they pass them round the office and everybody has a laugh," he said.
Investigation extended
Liz Dux, head of abuse at law firm Slater & Gordon, which is representing 72 alleged victims, said: "The interview shows Savile to be a man with complete disdain and contempt for those that he was purporting to help."
She said Savile boasted "about his fundraising for the hospitals, his wealth and his powerful friends, demonstrating how his actions went unquestioned for so many years".
She continued: "It's clear from the interview and the detailed questioning from police that they must have had a lot of information at the time he was interviewed back in 2009."
The transcript was of an "out of custody" interview with Savile in which he was not under arrest and free to leave at any time. He rejected the offer of having a solicitor present.
Earlier this week, Health Secretary Jeremy Hunt announced that the investigation into alleged abuse of patients at NHS hospitals by Savile would be extended to other hospitals.
The former BBC presenter of Top Of The Pops and Jim'll Fix It, who also worked as a Radio 1 DJ and received a knighthood in 1990, died aged 84 in October 2011 - a year before the allegations were broadcast in an ITV documentary.