Poland fans to unveil flag commemorating WWII pilots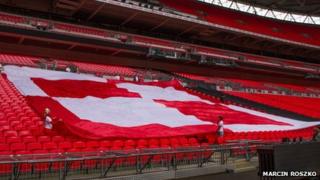 Poland football fans plan to unveil a flag at the World Cup qualifying match against England commemorating Polish pilots' role in the Battle of Britain.
The Polish checkerboard design of the 20m x 20m (65ft x 65ft) flag is the symbol of the Polish Air Force.
The RAF's 303 Squadron, formed with Polish aircrew, was Fighter Command's most successful unit in the Battle of Britain.
Eighteen thousand Poland fans will be at Wembley for Tuesday's match.
The flag will be passed over the heads of the supporters during the game.
Jake Smolarek, from the charity organisation Hurricane of Hearts who organised the flag, said the match represented a perfect time to "honour" the Polish pilots and "to show that we have got on well with British people for many many years".
He said the Football Association had been very helpful while the group was organising the flag.
'Magnificent' Poles
The checkerboard design was the pre-war symbol of the Polish Air Force and was painted beneath the cockpits of Royal Air Force Hurricane and Spitfire aircraft flown by Polish pilots during World War Two.
Poles had been accepted into RAF squadrons after the shortage of trained pilots became critical.
Two Polish units - 302 Squadron and 303 Squadron - were formed and they went on to shoot down 203 enemy aircraft. Twenty-nine Polish pilots were killed.
According to the RAF museum's website, Air Chief Marshal Sir Hugh Dowding, who led Fighter Command, wrote: "Had it not been for the magnificent material contributed by the Polish squadrons and their unsurpassed gallantry, I hesitate to say that the outcome of the Battle would have been the same."
Mr Smolarek said there had been a good response to the flag in Poland, where people are proud of their pilots who had flown with the British during World War Two with such distinction.
The flag is also meant to symbolise other joint campaigns between Britain and Poland during the war.
Mr Smolarek, who has lived in London for nine years, said the flag was also a thank you from Poles that they can be in England and shows what they have contributed to Britain in the past and still continue to do.
The 2011 census showed there were 579,000 Polish-born residents living in England and Wales.
England must beat Poland to guarantee progress to the 2014 World Cup in Brazil.