Prince of Wales to tour India ahead of Commonwealth meeting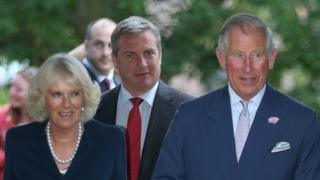 The Prince of Wales and Duchess of Cornwall will tour India before next month's Commonwealth leaders' meeting, Clarence House has announced.
The prince's trip to India between 6-14 November will promote UK-India partnerships in a number of areas.
He will then represent the Queen at the Commonwealth Heads of Government Meeting (CHOGM) in Sri Lanka.
The Commonwealth's leaders meet every two years. The Queen has attended every time since 1973
Prince Charles and Camilla will attend the opening ceremony of the summit in Colombo and host a dinner for the leaders, with the prince making speeches at both events.
The trip to India will be the couple's fourth official visit to the country and the first since the prince opened the Commonwealth Games in new Delhi in 2010.
Meeting overshadowed
They will travel to Dehradun, New Delhi, Mumbai, Pune and Kochi, where they will meet India's top political and business leaders.
Highlights of the trip include a Bollywood-themed gala dinner in Mumbai, and an off-road trip by the prince to an area set up in Kerala where elephants are able to roam, free of people.
The prince and the duchess will also attend a number of official engagements while in Sri Lanka, including a visit to a mental health initiative, a hospital and a tea estate.
This year's CHOGM has been overshadowed by a number of issues.
Earlier this month, The Gambia announced its intention to withdraw from the Commonwealth, saying it would "never be a member of any neo-colonial institution".
And Canada's Prime Minister Stephen Harper has said he would boycott the meeting in protest against alleged human rights abuses in Sri Lanka.
The Queen was first present at the CHOGM summit in Ottawa, Canada, in 1973 - missing the first one in 1971 - and has been at every summit since. The last one, in 2011, was held in Perth, Australia.