Newspaper review: Papers reflect Madeleine developments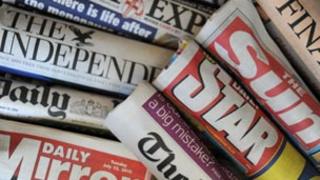 "Moments from Saving Maddie" runs a headline in the Sun, which suggests that Kate McCann may have come "heartbreakingly close" to catching the person who abducted her daughter.
The Daily Mirror reports that she heard a door in her Portuguese holiday apartment slam as she went in to check on her children - only to discover that her three-year-old daughter was missing.
Like the Daily Star and the Daily Express, the paper focuses on a previously neglected sighting of a man carrying a child - which would suggest that Madeleine McCann may have been taken 45 minutes later than had been thought.
An earlier sighting of another man has now been discounted. The Independent talks of a "radical shift" in the inquiry.
The Times says the wrong person has been at the centre of police investigations for six years.
Elderly care
The Independent leads with news of proposals by former Conservative Education Secretary Lord Baker for a new network of "career colleges" offering vocational training for 14 to 19-year-olds.
The Times says the proposals would constitute "one of the biggest shake-ups" in secondary education in more than 60 years.
Writing in the Independent, Lord Baker says the country has one million young people who are unemployed yet recruits foreign workers to fill a skills gap.
"It's about time," he says, "that we filled this gap with our own young people".
The Daily Mail leads with claims that thousands of pensioners will be forced to sell their homes to pay for their care despite government promises of a universal scheme that would allow people to defer care costs until their death.
The paper reports that, in fact, elderly people with modest assets will not qualify until they have run down their savings to below £23,000.
Labour peer Lord Lipsey tells the Daily Telegraph that ministers will face a tsunami of opposition, and he accuses the government of having "welched on the deal".
Knitted and pink
News of a school which has banned pupils from openly handing out party invitations unless the whole class is invited is reported in the Daily Telegraph and the Times.
Parents at the prep school in Bath have been told that the practice goes against the school's inclusive Christian ethos.
But not everyone is happy, with one parent asking: "why invite a kid who's been harassing you at school all term?"
Finally, they're pink, they're knitted - and they are on their way back.
So says the Daily Mirror, which reports that children's television series The Clangers is being remade after nearly 40 years.
The paper looks back fondly on the "charming mouse-like creatures" which spoke only in whistles and shared a blue planet with a metallic soup dragon.
A BBC spokesman tells the Daily Telegraph that programme-makers had to "think very carefully" before bringing back a cult classic - but had been won over by what he called the "enduring magic" of the Clangers.