PCCs Simon Hayes and Winston Roddick will not be prosecuted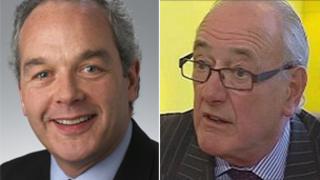 Two police and crime commissioners accused of falsifying their addresses to make them eligible for the posts will not face prosecution.
The allegations against Simon Hayes, the PCC for Hampshire, and Winston Roddick, the PCC for north Wales, were reported by the Mail on Sunday.
The Independent Police Complaints Commission said its file on Mr Roddick was not passed to the CPS, while the CPS opted not to act against Mr Hayes.
Both men had denied any wrongdoing.
Police and crime commissioners are elected officials responsible for appointing the chief constable of their force, setting local policing priorities and overseeing their force's budget. They replaced police authorities in 41 force areas across England and Wales.
The legislation which created the post and paved the way for the election of its first occupants in 2012 says candidates must be registered on the electoral roll on both the day they are nominated as a candidate and the day of the election.
The Mail on Sunday newspaper had said the IPCC was investigating allegations that the two men had listed addresses in their respective police force areas when in fact they had been living elsewhere.
In a statement, the police watchdog said the investigations began after allegations from different complaints were referred to it by Mr Hayes and Mr Roddick's respective police and crime panels.
"Mr Roddick was interviewed under criminal caution by IPCC investigators. He provided a detailed statement that explained his living arrangements and his various links to north Wales.
"The investigation found that there was no evidence to support the claim against Mr Roddick. On that basis, the investigation file was not passed to the Crown Prosecution Service (CPS).
"Mr Hayes was interviewed under criminal caution. Details from that investigation were given to the CPS, who decided that no further action was to be taken."