Police chief direct recruitment 'to bypass constable rank'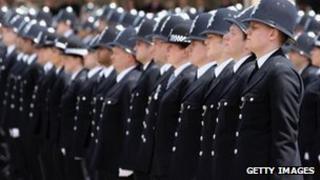 The government has announced plans to allow direct entry into the highest ranks of policing, ending 180 years of tradition.
The proposals would allow external candidates to reach senior positions without ever being a constable.
Ministers say forces in England and Wales will also be allowed to recruit chief constables from overseas.
Many officers oppose the changes on a point of principle, saying commanders must have operational experience.
There are approximately 800 superintendents in England and Wales who have operational responsibilities for local divisions and major investigations.
Under the changes, the College of Policing would oversee the external recruitment of at least 20 people a year to this rank.
These recruits would be the first in the history of British policing to never have held the office of constable.
Alongside that change, ministers say that Police and Crime Commissioners would be able to recruit overseas candidates to become chief constables, providing that the applicant had policing experience in a legal system similar to that of the UK.
In practice this could mean chief constables being brought in from major forces in the United States, Canada, Australia or New Zealand.
The third scheme for inspectors would allow suitably talented graduates to join a three-year scheme which would fast-track them from constable to the first management rung.
This would allow them to effectively leap over thousands of other officers who spend years building experience working in roles across their local force.
There are approximately 6,000 police inspectors. These fast-tracked recruits would make up approximately 80 inspectors a year.
'Fresh approach'
Policing minister Damian Green said: "Our reforms are building a police force fit for the future, one which can continue driving down crime. Introducing direct entry to policing will bring new ideas and a fresh approach to senior levels of the force."
The proposals first emerged 18 months ago in a major and controversial report on modernising police working practices.
But they have faced significant opposition from within policing, with some officers saying that direct entry to senior ranks breaches a point of principle established by Sir Robert Peel, the founder of modern British policing in 1829.
In theory, the new recruitment scheme for superintendents could eventually lead to the appointment of a chief constable who has never made an arrest - although their training would include shadowing constables.
Steve White of the Police Federation of England and Wales, which represents rank-and-file officers, said the best candidates for higher ranks could already be identified through existing internal schemes.
"To command a policing operation effectively, a senior officer needs first-hand experience of responding in an operational capacity to incidents they would not encounter in any other walk of life," he said.
"External candidates should not be able to join the service at any rank above that of constable - the current structure properly equips officers for the next stage in their career."
Chief Superintendent Irene Curtis, president of the Police Superintendents' Association, said direct entry created unnecessary risks".
The first direct entry recruits are expected to join training courses in 2014. The Home Office won't provide the figures it used to come up with the proposed ratios for external recruitment - but many officers complain that there is already a major workforce log-jam because promotions have been frozen by spending cuts.