George Osborne says UK-IOM tax deal is a 'momentous step'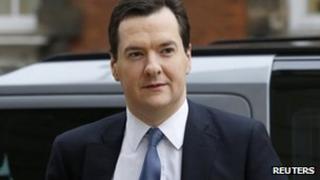 The signing of a tax information-sharing agreement with the Isle of Man is a "momentous step forward in tax transparency," George Osborne has said.
Last week, the Isle of Man became the first British crown dependency to sign such an agreement to help combat tax evasion.
The chancellor said the "net is closing on anyone attempting to hide their money offshore."
The UK is looking to agree similar deals with both Guernsey and Jersey.
Mr Osborne said: "The agreement we have now signed with the Isle of Man is a momentous step forward in tax transparency, showing that when we work together we can push the international agenda forward.
"The Isle of Man should be recognised as the first jurisdiction to sign an agreement of this kind with the UK."
'New global standard'
Under the accord, the island and the UK will automatically exchange a wide range of information on residents' tax issues, on a reciprocal basis.
It has been signed by Manx Chief Minister, Allan Bell and HM Treasury Exchequer Secretary, David Gauke.
On signing the historic agreement, Mr Bell MHK said: "We are underlining the message to our neighbours and the wider world that our island is a responsible centre for top quality international business.
"The Isle of Man was the first to strike this agreement with the UK and we are now the first to sign, demonstrating the clear commitment of both countries to the development of a new global standard in automatic exchange."
The signed agreement will see the two governments adopt new enhanced reciprocal tax information sharing arrangements, under which they will automatically exchange information on tax residents on an annual basis.