Newspaper review: Papers welcome chancellor's China trip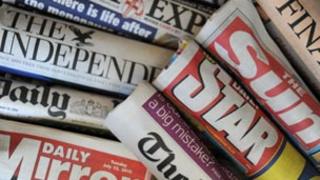 The papers welcome the chancellor's trade mission to China - along with his announcement that visa rules for Chinese nationals coming to Britain are to be relaxed.
The Daily Telegraph says the fact that both George Osborne and London Mayor Boris Johnson have travelled to China to court its rulers speaks volumes for that nation's diplomatic and commercial importance.
For the Times, the UK has a long way to go before it properly exploits its relationship with China. There's no doubt, the paper says, that in the quest for Britain to make a living in the world, China is part of the future.
Iran and the world powers begin formal negotiations over Tehran's nuclear programme in Geneva this week - and the Financial Times says the US and its allies will discover whether a new mood of compromise really inhabits Iran's corridors of power.
It urges US and Iranian negotiators to be courageous, saying the world needs to see a sustained and strategic shift in the US-Iran relationship.
The Independent says the auspices are better than they have been for many years. But, it warns, the hard part starts now.
Practice rife
England's first chief inspector of adult social care tells the Independent she is preparing to recruit an army of ordinary people with personal experience of the care system to help conduct inspections.
Andrea Sutcliffe says these are people who have an experience of care, either because they might be a user themselves or they might have cared for someone who has been in a residential home.
"We know that an awful lot of those folk are keen to share their experience and their insight", she says.
Drink-driving among motorists aged over 75 has risen by a fifth in two years, according to a survey reported in the Daily Mail.
The research was carried out by a car insurance company using figures from 42 of the 52 police forces in the UK.
According to the paper, experts and government officials say drink-driving does not carry the same stigma among older motorists born before the breathalyser and brought up in an age when the practice was rife and not considered socially unacceptable.
Judges' perks
A number of papers report a call by Mary Berry, presenter of The Great British Bake Off, that all children should be taught to cook 10 meals before they leave school.
According to the Daily Telegraph, she told the Cheltenham Literature Festival that cookery should not be taught in the "form it has been lately".
Instead, teachers should "blow the science of it" and go back to showing young people "what's good for them, how to buy ingredients and how to make a few dishes that they can enjoy and don't cost too much".
Finally, High Court judges are to lose one of their perks at the official residences they occupy when they are on circuit.
According to the Times, Lord Chancellor Chris Grayling has decided to end their subscriptions to Sky television to save money. It says the move has provoked anger.
One un-named judge tells the paper: "We have had a pay freeze and now this petty imposition, again without any consultation. It's the thin end of the wedge. Next will be our cars, drinks, entertaining and flowers."