Overnight child custody must end, says charity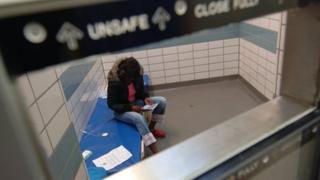 The "unjustifiable" overnight detention of children aged 17 and under in police cells has been criticised by the Howard League for Penal Reform.
Data from 34 of 43 police forces in England and Wales put such detentions in 2011 at 40,716, compared with 45,318 in 2010 - a fall of 10%.
While the charity praised the decrease, it said all such detentions must end.
The Association of Chief Police Officers said it regularly reviewed the holding of children in custody.
Detaining children in custody can be authorised to further a criminal investigation, uncover the identity of any suspects, or because the disappearance of that person would hinder a prosecution.
'Frightening and intimidating'
Children may also be held until a social worker or probation officer arrives at a police station.
The research, obtained under the Freedom of Information Act, showed the Metropolitan Police detained the highest number of children aged 17 and under for both years, with 14,370 in 2010 and 13,860 in 2011.
The Howard League, which campaigns for fewer people in prisons, called the decrease a success for its campaign to reduce the number of children caught up in the criminal justice system, but said it must end completely.
"Holding children as young as 10 in police cells overnight is unjustifiable," said chief executive Frances Crook.
"The vast majority of children who are locked up are innocent of any crime, and it is a frightening and intimidating experience which does more harm than good.
"What boys and girls need in most cases is simply to go home. Parents, not police, should be taking responsibility."
The charity has said it would like to see the age of criminal responsibility in England and Wales raised from 10, possibly to 14.
It has also published a briefing paper calling for police bail to be strictly applied to children and for all police to be trained in safeguarding and child protection.
Chief Constable Jacqueline Cheer, The Association of Chief Police Officers' spokesman on children and young people, said: "Detentions of both children and adults in police custody are reviewed regularly to ensure they are being held in accordance with the law and not for any longer than required.
"The rules for the detention of suspects are set down in law and on every occasion must be authorised by a custody officer."
'Extremely conscious'
The Met said the service recognised the effects of police custody on children and young people.
A spokesman said: "The service is extremely conscious they are vulnerable, and treats them accordingly whilst in its care.
"Children and young people will however inevitably end up being brought into custody, but only when their arrest is considered absolutely necessary.
"In these situations, custody officers are aware of, and act in accordance with, the legal requirements placed upon them."
Nine police forces were unable to supply figures to the charity - Avon and Somerset, Cleveland, Dorset, Essex, Greater Manchester, Hampshire, Northumbria, Staffordshire and West Midlands.
There were variations in the way police forces calculated overnight detentions, meaning some figures may not be directly comparable.
Some counted it as a child being in a cell at midnight, while others defined it as a four-hour period during the night.