Greenpeace ship Britons denied bail by Russian court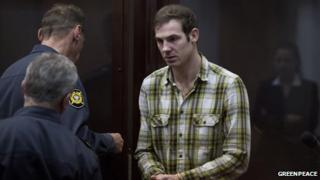 Two Britons arrested after a Greenpeace protest at an offshore oil drilling rig have been denied bail in Russia.
A court in Murmansk ruled that Kieron Bryan, from London, and Philip Ball, of Oxfordshire, should remain in pre-trial detention until 24 November.
The pair were among six Britons on board the organisation's boat Arctic Sunrise held on 18 September.
Greenpeace has called for the release of Mr Bryan on the basis he was a journalist working alongside activists.
All 30 people on the vessel have been accused of piracy, which carries a maximum sentence of 15 years.
Four earlier bail applications from Russians - including another journalist - were also refused.
Freelance video journalist Mr Bryan, 29, appeared in court behind a glass screen, wearing a green checked shirt.
Russia's Interfax news agency quoted him as saying he did not have journalistic accreditation and intended to sell his footage after returning from the Arctic.
'Harsh punishment'
"I had just verbal contracts. Verbal agreements with many leading TV companies that I would provide them with footage afterwards," Bryan told the court.
Greenpeace UK executive director John Sauven said the court's decision "flies in the face of all reason".
He added: "The decision of the court to refuse bail looks increasingly like the Russian authorities are meting out unnecessarily harsh punishment even before any trial.
"In the case of Kieron Bryan, he is a professional journalist, travelling on the Greenpeace ship, witnessing a peaceful protest against oil drilling in the Arctic Ocean.
"He has committed no crime and should be released immediately."
Mr Bryan's father, Andy, told BBC Radio Devon he was disappointed by the court's decision.
"I would like to say hopes are high that he will be home for Christmas, but realistically we really can't say. We'd love to see him home for Christmas," he said.
"We are overwhelmed with the support Kieron has and it's a great comfort. There are other times when we think how can he be in this situation and why is he in this situation."
The BBC's Moscow Correspondent Daniel Sandford reports that lawyers for the two men argued that the Gazprom's Prirazlomnaya oil platform is more like an island than a ship, so piracy charges should not apply.
Sergey Golubuk, a lawyer for Greenpeace International, said the detainees were denying the charge of piracy - defined by international law as "violent attack with personal gain in mind" at sea.
He told BBC Radio 4's Today programme: "All these basic indefensible elements of piracy are obviously lacking in all people on board Arctic Sunrise, without exception."
Mr Bryan's brother said his family had not been able to speak to him since his arrest and were finding the situation difficult.
The 32-year-old, originally from Shebbear in north Devon, has only been able to contact his family through a single letter, written nearly two weeks ago.
Poppy straw
Russell Bryan told Today: "Mum and Dad are finding it very hard, and myself as well. We haven't heard from Kieron in almost three weeks now, in terms of phone calls.
"It's been very hard not being able to speak to him.
"Kieron is a freelance journalist. He is not a Greenpeace member or a Greenpeace activist. This is not something that Kieron would have anticipated at all."
A spokesman for Vladimir Putin denied the Russian President had put pressure on the investigation by declaring on 25 September that the protesters had violated international law.
Russia's Investigative Committee has said the charges against some of those detained might change because drugs - thought to be poppy straw and morphine - were found on the boat.
Poppy straw, or raw opium, can be used to produce morphine or heroin.
The committee also said investigators were trying to establish which detainees were responsible for "deliberately ramming" Russian coastguard boats in the Arctic.
Greenpeace said any suggestion illegal drugs were found was a "smear" and "fabrication" as its ships only carry medical supplies required under maritime law.
The UK government, meanwhile, has raised the case of the six detained Britons with the Russian authorities.
Those being held with activist Mr Ball and Mr Bryan are logistics co-ordinator Frank Hewetson from London, activist Anthony Perrett from Newport in south Wales, communications officer Alexandra Harris, originally from Devon and 2nd engineer Iain Rogers, from Exeter.