Leveson 'can't comment' on press regulation proposals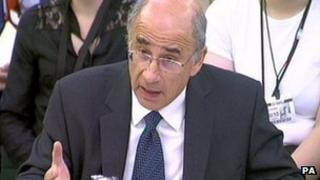 The judge who carried out the public inquiry into press standards has told MPs he does not think he should comment on proposals for press regulation.
Lord Justice Leveson told the Culture, Media and Sport Committee that, as a judge, he could not comment on an issue of political controversy.
Newspapers and MPs have failed to agree on how press regulation should work since Sir Brian produced his report.
It recommended a tougher form of self-regulation backed by legislation.
Asked by MPs whether rival proposals put forward by the government and the newspaper industry complied with his recommendations, Lord Leveson said he could not go beyond what he had said in his report, which was published last November.
"I don't think I could do it because I would be entering into a political argument. I could legitimately be criticised for reaching conclusions about matters on which I had not heard evidence or listened to the contrary argument," he said.
"If you ask me to pick and choose then I come into the problem I'd need to know why, I'd need evidence, I'd need submissions. That's how I work, it is a judicial exercise for me and I've finished, and I don't have any authority to do that," he added.
However Lord Leveson said it was "fundamental" for any UK press regulation to reflect "legitimate concerns" of victims of press intrusion.
'Stuck'
His comments came after committee chairman John Whittingdale voiced his "frustration" over Lord Leveson's refusal to comment.
"We have reached a position where the prime minister told me essentially we are stuck. Both sides are arguing that their version delivers your recommendations, that they will establish a system which is essentially Leveson system.
"You are somebody who has spent 15 months taking evidence, you are the head of an inquiry that cost £5m, you took evidence from a huge range of people. It would be enormously helpful if in terms of trying to resolve these differences and trying to get an agreement if we could at least get your view on that subject," he said.
On Tuesday, Culture Secretary Maria Miller announced that the Privy Council - an ancient body which advises the Queen, mostly made up of senior politicians - had rejected press proposals for a royal charter.
She referred to principles in the Leveson report, such as independence and access to arbitration, and said an alternative plan would now be "improved", adding that ministers were said to be willing to consider some of the industry's ideas.
Changes will now be made to the alternative plan backed by politicians and campaigners, and the Privy Council's decision is expected on 30 October.
Options for the self-regulation of the press were proposed in the wake of the Leveson Inquiry, set up in July 2011 after it emerged journalists working for the now-closed News of the World had hacked into the mobile phone of murdered Surrey schoolgirl, Milly Dowler
The public, judge-led inquiry examined the culture, practice and ethics of the press.
New press regulator: Proposals compared
Political involvement:
Government: Royal Charter could be amended by Parliament, but only if there were a two-thirds majority in both houses
Newspapers: Parliament could not block or approve any future changes to regulation. Instead the regulator, trade bodies and the regulator's panel would have to agree to changes
"Recognition" panel:
Government: Former editors would be banned from serving on the "recognition panel", which would decide whether newspapers were being regulated properly
Newspapers: Former editors would be allowed to serve and there would be a requirement for at least one member to have newspaper industry experience
Appointments process:
Government: Appointments committee to consist of four members, none of whom could be a serving editor or MP
Newspapers: Want one of the four members to "represent the interests of relevant publishers"
Corrections and apologies:
Government: Regulator to have the power to demand prominent corrections and apologies from publishers and impose £1m fines. Regulator board would "direct" the nature, extent and placement of corrections
Newspapers: Regulator to have the power to ensure "up-front corrections, with inaccuracies corrected fully and prominently" and to impose £1m fines for "systematic wrongdoing". However, the board would "require" rather than "direct" in relation to apologies
Arbitration:
Government: A free arbitration service would be provided for victims and a fast complaints system would be established to ensure all individuals could afford to pursue action against publishers
Newspapers: An arbitration service would offer "a speedy and inexpensive alternative to the libel courts, subject to the successful conclusion of a pilot scheme". However, papers are concerned a free service would lead to a surge of claims for damages