Alps murders: French police 'covering up', says brother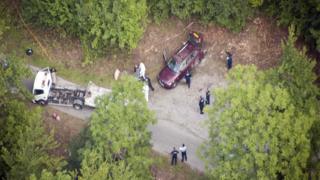 The brother of a British man killed with his wife and mother-in-law while on holiday in the Alps has denied arranging their murder.
Zaid al-Hilli, from Surrey, has accused French police of "covering up" the real target of the killings in 2012 and also offered to take a lie-detector test.
He remains on bail after being arrested on suspicion of conspiracy to murder.
The French prosecutor said he was convinced there was a very serious feud between the brothers.
Saad al-Hilli and his wife Iqbal, from Claygate, her mother Suhaila al-Allaf and French cyclist Sylvain Mollier, were shot on 5 September 2012.
The bodies of the four victims were found on a remote forest road in Chevaline near Lake Annecy.
The two young daughters survived the attack, one by hiding under her dead mother's skirt.
Saad's brother Zaid, who is from Chessington, was arrested on suspicion of conspiracy to murder amid claims he doctored documents to ensure he inherited the family estate following the death of their father.
Zaid denied arranging the killings and said the accusations were "ridiculous."
He rejected claims of a feud between the brothers over the inheritance.
He said they got on well despite only communicating through their lawyers in the eleven months before the attack.
"Our relationship was very brotherly and very close, and we looked after each other," he said.
He declined to answer questions about his father's will because British police are investigating him for possible fraud.
"Serious feud"
He said French police shut down their investigation into the murder of the cyclist, Sylvain Mollier, too soon.
"They are covering up for someone in France in that region and they know it.
"Sylvain Mollier was involved in family disputes and was an outsider to [his] rich family. There is something more to it locally... most crime has local roots."
The French prosecutor, Eric Maillaud, has said he is sure the cyclist was there by accident and is convinced there was a feud between the brothers.
"The police have investigated Sylvain Mollier's family as far as they could. There is nothing to link Mollier to this murder," he said.
"The investigators have become convinced that Zaid tried to steal from his father, one way or another, and that there was a very serious feud between the two brothers.
"Saad al-Hilli was afraid of his brother and had changed the locks at the house and fitted a new alarm."
Mr Maillaud said French investigators will solve the mystery of the Annecy murders however long it takes.
Panorama: Murder in the Alps, BBC One, Monday 21 October at 21:00 BST and then available in the UK on the BBC iPlayer.