Nairobi Westgate siege survivors meet Terry Waite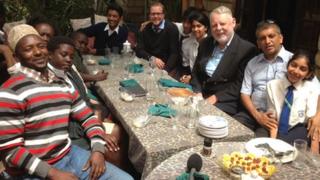 Terry Waite, who spent nearly five years in captivity after being kidnapped in Lebanon, has met children and parents caught up in last month's attack on the Westgate shopping mall in Kenya.
Sixty-seven people were killed by al-Shabab militants during a four-day siege in Nairobi.
There are moments of light relief amid the tears as Terry Waite tells anecdotes of his years in captivity.
"I never let them off the hook," the 74-year-old former hostage says, talking of the Hezbollah militants who kidnapped him in Lebanon, where he had gone as a Church of England envoy, in 1987 and held him prisoner for 1,760 days.
One of the children, who was held hostage for several hours inside the Westgate shopping mall, asks Mr Waite if he was able to talk to the guards during his captivity.
Once, he says, he questioned one of his captors.
Mr Waite said that, when he asked if the Koran said "You must not steal," his captor had replied "Yes."
Asked "How is it you steal from my family, steal my life?" his captor had replied "We'll go and ask the chief about that," Mr Waite added.
"So they went away and came back a couple of weeks later and said 'The chief said we mustn't talk to you any more.'"
It almost certainly wasn't funny at the time.
But Terry Waite remembers it with a smile.
And so the children and their parents laugh.
Perhaps they feel relief: here was a man who had endured years of solitary confinement and mistreatment but who had come out the other side, and come to terms with his experience.
'Grossly unfair'
Jihanara Dossa is an articulate 13-year-old. Her mother, Shyroze, was killed at Westgate.
"The fact that I know I will have to face it, and accept it, is quite daunting. Because I don't feel I'll be able to."
Terry Waite turns his deeply-lined face to Jihanara.
"By saying what you've just said, I'm convinced you will deal with it.
"But as you quite rightly say, it is grossly unfair."
Mr Waite's long years of incarceration clearly constitute a very different experience from the sharp shock of Westgate, where lives were turned upside down over the course of a few days.
But his message to the dozen people gathered on a shady terrace in a Nairobi suburb is two-fold.
Firstly, he wants them to know they were not alone in their suffering.
Secondly, he says, it is possible to forgive those who inflicted that suffering.
"I think forgiveness is too far away for me to even think about," says Jihanara's older sister, Jasmyn.
"I haven't accepted that my mum is gone.
"I know she's always going to be watching us and laughing at us when we mess up and watching us grow up.
"But I just wish she could do this here and not in heaven."
Mr Waite acknowledges that it's still very early to be talking about forgiveness.
Anger, he says, is a very understandable reaction.
"But, if you can help it, don't let that anger turn to bitterness.
"Because it is like a cancer that enters the soul, and does more harm to those who hold it than to those against whom it's held."
Navaz Dossa, the father of Jasmyn, Jihanara and their elder brother Jamil, says one of the hardest things is the lack of information, the lack of answers about how and why his wife died.
"By burying my wife, I got closure as a husband," he says.
"But as a parent of these three beautiful children, I don't have closure yet - there's so much we still don't know.
"And I think the government has a duty to help us find those answers."
Mr Waite says answers are important.
But he warns that the victims of Westgate may never know the full picture.
"Not everything can be answered.
"There will still remain ambiguous areas and somehow, at a certain point, you have to accept that ambiguity and go on regardless."
In the case of the Westgate victims, he says, complete forgiveness may never be possible.
"That involves a relationship between the person who is forgiving and the one who is seeking forgiveness and that's unlikely to happen in this situation."
Mr Waite did finally confront his captors.
Last year he travelled to Lebanon and met one of the leaders of Hezbollah.
"That was 20 years after I was released," he admits. And he laughs.