Greenpeace charges: UK raises British cases with Russia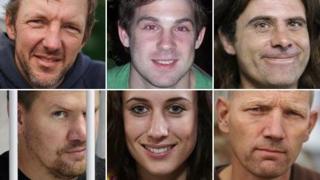 The UK government has raised the case of six Britons held in Russia on piracy charges after a Greenpeace protest with the country's authorities.
Europe minister David Lidington said Foreign Office staff had discussed the case with Russia's UK ambassador.
Last month, Foreign Secretary William Hague spoke to his Russian counterpart about the situation.
Meanwhile, Russia says it found illegal drugs on a Greenpeace ship - but the group called that a "fabrication".
The Britons were among 30 people arrested last month on the Arctic Sunrise ship over a protest on an Arctic oil rig owned by Russian company Gazprom.
They are freelance video producer Kieron Bryan and logistics co-ordinator Frank Hewetson - both from London; activist Anthony Perrett from Newport in Wales; communications officer Alexandra Harris, originally from Devon; activist Philip Ball from Chipping Norton, Oxfordshire; and 2nd engineer Iain Rogers, from Exeter.
They are all being held in the port of Murmansk, in north-west Russia. The charge of piracy carries a prison term of up to 15 years in Russia.
In a written ministerial statement, Mr Lidington outlined the support the government had given the Britons.
He said consular officials attended the group's court hearings between 26 and 29 September, spoke to them and took messages back to family and friends in the UK.
Officials visited them again on 3 and 4 October, after they had been charged with piracy, to check on their welfare.
He also said Mr Hague had met with Greenpeace bosses, and the UK's ambassador in Moscow had spoken to Russia's deputy foreign minister last week.
The Netherlands has launched legal action to free the activists.
Two of its citizens are among those charged, along with people from Argentina, Australia, Canada, France, New Zealand, Russia and the US.
On Saturday, hundreds of people, including actor Jude Law and musician Damon Albarn, staged a demonstration against the piracy charges in London.
Similar events were held in more than 40 countries.
Drugs claim
Russia's Investigative Committee has said the charges against the detainees might change in light of evidence gathered from the ship.
"During a search of the ship, drugs (apparently poppy straw and morphine) were confiscated," the committee stated.
Poppy straw, or raw opium, can be used to produce morphine or heroin.
The committee also said investigators would seek to determine who among the detainees was responsible for "deliberately ramming" Russian border guard boats.
Greenpeace said it had a "strict policy against recreational drugs" on its ships, adding: "Any claim that illegal drugs were found is a smear, it's a fabrication, pure and simple."
"We can only assume the Russian authorities are referring to the medical supplies that our ships are obliged to carry under maritime law," a spokesman said.
"Before leaving Norway for the Russian Arctic, the ship was searched with a sniffer dog by the Norwegian authorities, as is standard. The laws in Norway are amongst the strictest in the world, and nothing was found because nothing illegal was on the ship."
The Arctic Sunrise was intercepted by coastguards on 19 September after two Greenpeace activists tried to haul themselves up onto a huge offshore drilling platform operated by state-controlled Gazprom.
Greenpeace says drilling for oil in the Arctic puts a delicate environment at risk.