Apostleship of the Sea helping 'invisible' seafarers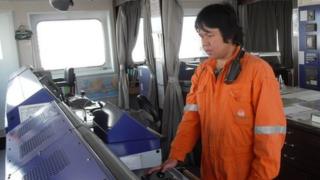 Standing at the centre of Immingham, it's clear that this huge port is the size of a small town.
Container ships are at anchor, unloading goods and materials, while others are entering and leaving the Lincolnshire port, loaded down with containers.
The goods are valuable - but who's looking after the welfare of the seamen on board?
The answer is Father Colum Kelly, who lives and works at the port.
He's part of an international Christian charity known in Britain as the Apostleship of the Sea, and to seafarers around the world as Stella Maris.
Father Colum's remit is to provide both spiritual and practical support to the seamen who pass through Immingham, by visiting them personally on board their ships.
It's a job that requires a lot of diplomacy - as well as strong legs.
Small gestures
It's hard work climbing the gangplank to the United Fortune, which is coated in coal dust - one of Immingham's major imports - but Father Colum immediately identifies himself to the crew, asking permission to come aboard.
Once that's granted, he heads down through the noisy bowels of the ship to its rest room and it's not long before several crew members have gathered there to make use of a modem that Father Colum has brought with him.
Crew members bring out a range of mobile devices, taking the opportunity to contact friends and family or update their Facebook pages - something they won't be able to do once they leave port.
"A lot of what we do for the seafarers are small gestures - by coming on to the ship or giving them some phone cards, Sim cards, or something that can give them wi-fi access," says Father Colum.
"All small gestures, but taken together they make an enormous difference to the life of a seafarer. And that's why we're here, to make a difference."
It's not just about the small things though.
Once Father Colum gains their trust, crews are more likely to confide in him about serious issues over wages or working conditions.
It can be a tough career choice, working 24-hour shifts for months at a time.
In August, a new Maritime Labour Convention came into force. The International Labour Organisation believes it covers almost every issue relating to seafarers' working and living conditions.
But Father Colum believes the convention may take some years to become fully effective.
Back in his office above the port's seafarer's centre, Father Colum is busy with Father Cameron MacDonald - who works for a similar organisation called the Mission to Seafarers - studying a computer radar map and dealing with telephone calls from the relatives of a crew who are stranded on a ship outside Malta.
The ship's owners are in financial difficulties, leaving the crew trapped at sea with their salaries unpaid.
It's not an unusual problem, according to Father Colum.
"On the ships the lads are OK, they're fed, they've got whatever they want, their accommodation is there," he says.
"But they're desperate about the plight of their families back home because there's no money coming in to pay bills.
"They're being hounded by banks, by mortgage companies, by schools for school fees, for hospital fees, all the things that we just kind of take for granted."
Father MacDonald adds: "And don't forget, it's not just the Western nuclear family we're talking about. A seafarer may well be supporting an extended family."
It's not unusual for the priests to become involved with problems that are going on thousands of miles away - because they meet so many international seafarers in the course of their work.
Seafarers who find themselves stranded in British ports are stuck in a complicated legal web.
In January this year the MV Independent was impounded by British authorities because its owner had failed to pay a £32,000 fuel bill.
The crew were forced to leave the vessel, moored in Shoreham-by-Sea, West Sussex, without being paid, leaving only the captain and one other crew member aboard.
Under British visa laws he could enter the nearby town - but go no further unless he chose to leave the country.
Unusual request
But despite the drawbacks, for many people this is a worthwhile career.
As one young Greek seaman drinking in the port's bar downstairs reveals: "There's too much of a financial crisis, so it's better that I work on ships now. It's a better job, with better money."
Once he's finished reassuring the families of the crew members stranded near Malta, Father Colum heads out again.
When he reaches the deck of his second vessel, a Chinese crew member greets him warmly - with an unusual request.
One of the crew needs a new tablet computer. It's a quick and cheap way of keeping in contact with family.
Can Father Colum help?
It's the crew member's lucky day. He's driven to a shop a few kilometres away where he buys a new computer.
There, surrounded by all manner of electronic goods, a sales assistant explains that most of the items on the shelves have come from overseas - in this case, the vast majority from East Asia.
Indeed, if the world's merchant seamen ever decided to turn their backs on a life on the ocean wave, much of the world's trade would simply stop.
It's a fact not lost on Father Colum.
He and his colleagues from the Apostleship of the Sea, posted at ports around the world, deal with a wide range of issues, ranging from loneliness and working conditions, to unscrupulous employers and failure to pay wages.
"We're dealing here with an invisible world," he says.
"Nobody comes on to docks to meet seafarers. Nobody knows how seafarers live or ply their trade. These guys are away from home for nine months, 12 months at a time.
"If you ever really stop and think about the importance of what they do, just look around your home.
"Look at your television, your computers, your fridges, your car outside your door, the light switches that keep your lights on - all this stuff is brought to us by sea.
"And yet the lives of the people who bring this stuff to us, few people know anything about those lives."