Profile: Tommy Robinson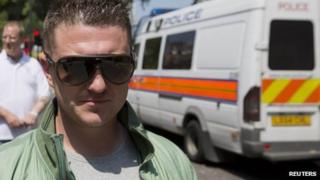 Tommy Robinson founded the English Defence League (EDL) - which protests across the UK against "radical Islam" - in 2009.
In one of his first interviews, in September of that year, he complained to the BBC News website of town centres "plagued by Islamic extremists".
"There are women who don't want to go shopping because there are 20 men in long Islamic dress shouting anti-British stuff and calling for a jihad and stirring up religious and racial hatred," he said.
"Those are our town centres, and we want them back."
He added that the "Muslim community of Britain needs to understand that our community is under threat from these fanatical jihadists".
'Extremist problem'
The EDL emerged from clashes in Robinson's home town of Luton in March 2008 between a group of Muslims protesting as the Royal Anglian Regiment paraded through the town on its return from Afghanistan and those involved in a counter-demonstration.
It has become known for its street marches and demonstrations in towns and cities, which are often met by anti-racism campaigners.
Mr Robinson is due to face trial later this month, charged with obstructing police officers near the scene of the killing of soldier Lee Rigby.
He allegedly tried to defy a ban on marching to the scene in Woolwich, south-east London, via a major mosque, on 29 June.
Mr Robinson - real name Stephen Yaxley-Lennon - says he was born Stephen Yaxley in London in 1982 and was later adopted by a man called Thomas Lennon.
He says that, at the age of 20, he joined the British National Party for a year because he was "looking for a way out, looking for somebody to be addressing the Islamist extremist problem".
"Once I joined the organisation, I saw what it was about - it was not for me."
In an interview with BBC One's Sunday Politics in March, the father-of-three - who got married in July 2011 - said he was "a working-class man from Luton" who had "made my mistakes in my life".
He said that, as a younger man, he had "done things I'm not proud of".
Mr Robinson announced he was quitting as EDL leader on Tuesday, saying he no longer felt he could keep extremist elements within the organisation at bay and that "Though street demonstrations have brought us to this point, they are no longer productive."
He told BBC Radio 5 live's Nicky Campbell he wanted to "lead the revolution against Islamist ideology" but said: "I don't want to lead the revolution against the Muslims."
"I believe that the revolution needs to come from within the Islamic community and they need to stand up. And I believe this is a step forward not a step back."