Analysis: HMP Oakwood report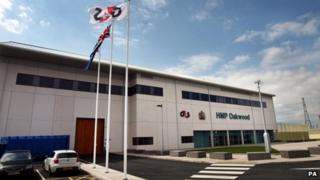 The official website for HMP Oakwood says that it wants to "inspire, motivate and guide prisoners to become the best they can be."
It's not clear whether that mission statement at England's second largest jail was considered when dealing with one particularly obese prisoner.
In just one of a series of criticisms within a highly critical report, prison inspectors found the inmate couldn't leave his cell to associate with others because nobody had given him sufficient clothes.
Oakwood, which is near Wolverhampton, is privately run by G4S and holds up to 1,600 criminals.
It was opened in April 2012 as a super-sized jail.
Illegal homebrew
Its progress matters because it is part of a master-plan to save money and ensure more criminals are rehabilitated.
Inmates told the prison inspectors that it was easier to get hold of drugs than a bar of soap. One in seven of them had developed a drug problem after entering the prison - twice the number at comparable jails.
If they couldn't get hold of drugs, there was also illegal homebrew alcohol and other drink that had been thrown over fences by friends on the outside.
In short, the unannounced inspection team found Oakwood wanting on each of their core tests of what makes a "healthy prison".
In its short and troubled life, Oakwood has already been heavily criticised.
It already has the lowest possible Prison Service rating (alongside another privately-run jail) while a health watchdog has also stepped in to improve matters.
And yet at the same time, Oakwood is supposed to be the future.
It has been involved in one of the government's projects to make sure inmates do a proper working week, including at a call centre designed to help them go straight.
Back in February, Justice Secretary Chris Grayling told MPs: "We have a very good model for prison development in Oakwood, which opened recently in the West Midlands.
"That site has multiple blocks and first-class training facilities.
"To my mind, it is an excellent model for the future of the Prison Service."
'Warehousing criminals'
However, in September, ministers confirmed that the prison had been given an "improvement notice" - a list of failures that need fixing - just over a week after Mr Grayling's comments.
But overall, the government is sticking to its guns, saying that jails the size of Oakwood - privately or publicly run - can be efficient and safe.
It has confirmed that it will build a 2,000-place jail in Wrexham, which will be the largest in the UK.
These new-style jails are critical to the bigger picture.
The government desperately wants to lower the vast costs of warehousing the worst criminals - and use payment-by-results to improve the chances of rehabilitating the rest.
We won't know for some years how successful that strategy has been.
But one thing has already changed at HMP Oakwood. The inmate who was stuck in his cell has been given big enough clothes to get out and about.