Paedophile who walked free gets jail term after appeal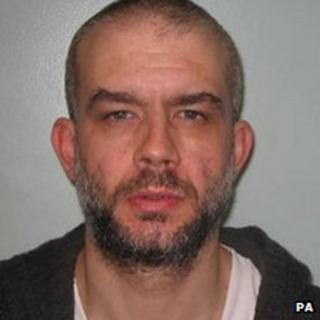 A paedophile given a suspended prison term after his victim was described as "predatory" has had his sentence changed and been jailed for two years by the Court of Appeal.
Neil Wilson admitted sexual activity with a 13-year-old girl at his former London home and making indecent images.
Appeal judges ruled the 12-month suspended term was "unduly lenient".
Wilson, 40, now of York, was not in court but later surrendered to police as he had been ordered to.
A spokesman for North Yorkshire police said he had "surrendered to police custody" before 18:00 BST - the deadline set by the court.
A row broke out shortly after the original case was heard at London's Snaresbrook Court in August when it emerged that prosecuting barrister Robert Colover had labelled the young girl "predatory" and "sexually experienced".
Mr Colover was suspended from handling sexual offence cases as a result of his comments.
The Crown Prosecution Service (CPS) described the language as "inappropriate" and later announced that Mr Colover had agreed to resign from from the CPS panel of advocates and will no longer undertake prosecutions involving serious sexual offences or child abuse.
A number of complaints about remarks made during sentencing by Judge Nigel Peters, who said he was taking into account how the girl looked and behaved, are being "considered" by the Judicial Conduct and Investigations Office.
'Simply wrong'
Attorney General Dominic Grieve referred the original sentence to the Court of Appeal.
The Lord Chief Justice Lord Thomas and two other judges quashed the suspended sentence and ordered Wilson, formerly of Romford in east London, to surrender to police.
He said there were "no circumstances whatsoever" that justified departure from the principle that normally an immediate prison sentence should be imposed in such a case.
"To reduce punishment on the basis that a person who needed protection was encouraging the commission of an offence is simply wrong."
Lord Thomas added: "There were other aggravating factors to this case. First of all the offender must have known, as the judge said, that she was under 16. By his plea he accepted that.
"He must have appreciated her vulnerability. The offender plainly preyed on her vulnerability."