Litvinenko widow to continue judicial review case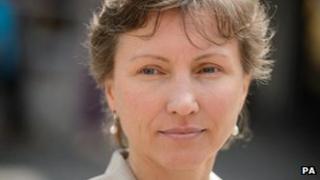 The widow of poisoned former KGB spy Alexander Litvinenko is to continue her legal bid to force a public inquiry.
Marina Litvinenko said she came to the decision after the public responded to her appeal to help fund her costs.
She wants the High Court to rule the home secretary was wrong not to order a public inquiry into her husband's death in London in 2006.
Her lawyers say the decision to pursue the judicial review claim is "courageous".
The UK government has ruled out an inquiry despite a coroner's decision that an inquest could not hear evidence of alleged Russian state involvement.
Last week Mrs Litvinenko went to the High Court to seek permission to challenge the legality of the decision.
But when the judges refused an order restricting her liability for costs if she loses the case, Mrs Litvinenko told the court she needed time to decided whether to continue.
She then made her appeal to the public to help fund her fight.
Mrs Litvinenko said it was the "overwhelming support from the people which convinced me not to abandon my cause".
She said enough contributions had been received over the weekend to pay £2,500 of government costs presented to her for last week's proceedings.
"I decided not to quit even though I am threatened to pay tens of thousands of pounds of the government's legal expenses, should I lose my case," she said.
"My opponents do not want this investigation. But I will not be stopped."
Mr Litvinenko, 43, died after he was poisoned with radioactive polonium while drinking tea with two Russian men, one a former KGB officer, at a London hotel.
His family believe he was working for MI6 at the time of his death and was killed on the orders of the Kremlin.
Home Secretary Theresa May has said that UK-Russian relations were a "factor" in the government's decision because an inquest was more "readily explainable" to foreign governments than an inquiry established by ministers.
But she maintained that Mr Litvinenko's family "would learn no more from an inquiry than they would from the inquest" and an independent review into the case could still be held later if questions remained.