Montgomery Canal restoration awarded £160k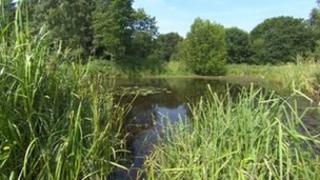 A project to restore a 200-year-old canal through England and Wales has been awarded a £160,000 lottery grant.
Only a small section of the 33-mile Montgomery Canal is currently navigable.
A project team led by the Canal & River Trust and Montgomery Canal Partnership ultimately hopes to restore the entire length of the waterway.
The initial award from the Heritage Lottery Fund will allow the team to put together a more detailed bid for £3.7m.
The £160,000 "development funding" will also allow the groups to restore some of the bridges along the route as well as employ at least two members of staff.
The Montgomery Canal Partnership aims to reopen the canal, upgrade towpaths, reinstate a winding hole to allow boats to turn at Crickheath and extend a nature reserve at Aston Locks.