Newspaper review: Terror raids analysed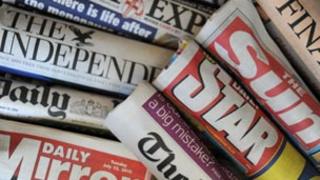 US special forces' mixed fortunes in Libya and Somalia dominate Monday's papers.
Commandos captured Anas al-Liby, a leading al-Qaeda suspect in Libya, but failed to track down a senior al-Shabab militant in southern Somalia.
The Daily Telegraph describes how MPs plan to question Home Secretary Theresa May over why al-Liby was given political asylum in Britain in the 1990s and was allowed to live here.
The Times believes the mission in Somalia ultimately failed because it was planned in just a week and a half.
But the Guardian takes a different perspective, warning that the US raids could invite further retaliation and escalation.
Another story dominating the papers is what the Times calls the cruel short visits which deprive the elderly of dignity and care.
The Daily Mail and Express describe how in many cases, time is so tight during visits by carers that some of the most vulnerable people are forced to choose between having a cup of tea or being helped to the lavatory.
The Independent argues it will be be hard to resolve the crisis without more money.
Admired woman
Several papers have delved into the private papers of former Prime Minister Lady Thatcher.
And they have all picked up on her plan to anoint Cecil, now Lord, Parkinson as her successor.
The plot was only scuppered when he informed her his secretary was pregnant with his love child.
According to the Financial Times the archives also show the Iron Lady was capable not just of intimidating colleagues and opponents, but could leave male admirers looking like love-struck teenagers.
One such man, it seems, was Sir John Nott who, on his resignation said in a letter to the PM: "I actually admire you as a woman - your good looks, charm and bearing have always attracted me."
As the Daily Mail points out, Sir John never received a reply.
There's good news and bad news for people hoping to buy a stake in Royal Mail when it's partially sold-off by the government this week.
The Telegraph says that with the sale heavily oversubscribed, investors are predicted to enjoy an instant profit of up to 40%.
But the Mail warns that thousands of small investors risk losing out to the "City Big Boys" in what the paper calls a "shares gold rush".
'Net closing in'
Housing remains popular topic for a number of today's titles.
The Guardian reports on banks and building societies that are "braced for a stampede" as thousands of potential home-owners try to take advantage of the latest phase of the government-backed Help to Buy mortgage scheme.
However, the Times says there are doubts about the affordability of the programme with buyers possibly having to pay rates of up to 6%.
The Telegraph says the housing problem needs addressing but asks whether the government is undermining its own ambitions by creating a new bubble.
Meanwhile, the Daily Mirror claims police investigating the disappearance of Madeleine McCann are poised to make arrests amid hopes that the "net is closing in on her kidnappers".
The Sun says it has investigated Britain's mental health system and reports that 1,200 people have been killed by high-risk patients in ten years - a "catastrophe" it says in an editorial.