MoD to examine US base attack report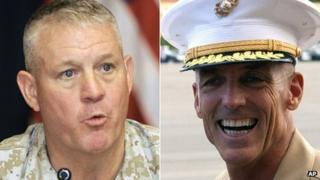 The Ministry of Defence is to examine a US review into a Taliban attack on Camp Bastion in Afghanistan which criticises the British military for the way it handled security at the base.
Two US marines were killed and over $200m (£124m) worth of aircraft destroyed in the September 2012 attack.
This week, two US generals were forced to retire after an investigation.
The MoD said it would "consider" the US findings to confirm its own assessment that no further UK action was required.
The UK's own inquiry into the attack has not been released.
But the US investigation was partially declassified and has been published online.
It looks into the actions of US personnel but points out security was the responsibility of British officers.
Up to 28,000 troops and contractors worked at Camp Bastion at the time of the attack, but the US investigation found only half of the guard towers were manned, including the one closest to the breach.
A similar proportion at the US Marines' Camp Leatherneck section were also left unguarded.
A concertina wire, a ditch, obstacle and a 30ft (10m) high boundary chain link fence were in place around Camp Bastion.
One of the US generals who was forced to retire, Major General Gregg Sturdevant, said in his statement that his impression had been that some of the enhanced security which commanders had asked for had been refused on cost grounds both in the UK and US.
In a statement to investigators, he said it was only after the attack that he found out there were unmanned towers at the base, because he said the "information flow was slow and the Brits were embarrassed".
He added that after the attack, "the Brits desperately wanted" to continue to be in charge of security, "but I told them that we were no longer willing to accept not being in charge of overall security. The attack definitely changed the environment. They knew that they had screwed up".
The conclusion of the American investigation was that, while the US commanders had correctly delegated their responsibilities, in the end, they alone were accountable.
But an MoD spokesman pointed out that the US review found a separate internal perimeter fence would likely not have presented "any serious challenge, barrier or impediment to the enemy" on the day of the attack.
He added: "Force protection measures at Camp Bastion have been reviewed and are appropriate to current threat levels.
"The insurgents were repelled by US Marines and Royal Air Force Regiment personnel whose courageous actions prevented greater loss of life and equipment.
"While the US review was intended to examine US actions only and not those of coalition forces, the UK will consider its findings in detail to confirm our earlier assessment that no further UK action is required."