Alexander Litvinenko widow appeals to public for funds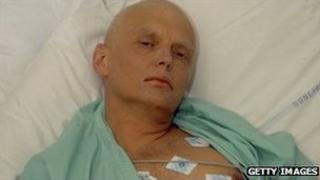 The widow of poisoned former KGB spy Alexander Litvinenko has appealed to the British public for money to help fund her fight for a public inquiry.
Judges have refused Marina Litvinenko an order restricting her liability for costs if she loses the case.
Mr Litvinenko was poisoned in London with radioactive polonium in 2006.
The UK government ruled out an inquiry despite the coroner's decision that the inquest could not hear evidence of alleged Russian state involvement.
'Cannot give up'
Mrs Litvinenko said she could face a bill for at least £40,000 and lose "almost everything" if she continued her legal bid.
She told reporters: "I really want to get the truth. I absolutely cannot just give up."
Mrs Litvinenko wants the High Court to rule that Home Secretary Theresa May was wrong not to order a public inquiry into her husband's death.
She has told judges she will make a decision on whether to continue her application for a judicial review by late Monday.
"I need to take some very serious decisions," she said.
Coroner Sir Robert Owen had requested an public inquiry after ruling the inquest could not discuss Russia's alleged role in the death.
But the government refused, saying the inquest would be an effective investigation into the death.
Arrests sought
Mr Litvinenko, 43, died after he was poisoned with radioactive polonium while drinking tea with two Russian men, one a former KGB officer, at a London hotel in 2006.
His family believe he was working for MI6 at the time of his death and was killed on the orders of the Kremlin.
The inquest has already faced major delays because both the UK and Russian governments have been slow to disclose documents.
British police have sought the arrest of two Russian nationals in relation to the death, Andrei Lugovoi and Dmitri Kovtun, both of whom deny any involvement.
The Russian authorities have rejected requests to extradite the two men.
Mrs Litvinenko's lawyers are asking three judges at London's High Court - Lord Justice Goldring, Lord Justice Treacy and Mr Justice Mitting - for permission to challenge the legality of the government's decision in an application for judicial review.
The question of whether Mrs Litvinenko should be given the go-ahead to challenge Mrs May's decision to refuse an immediate inquiry will be dealt with by judges at a further hearing.