Police 'struggling' with historical child abuse workload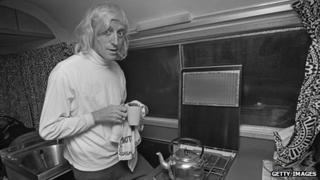 The NSPCC says some police forces are struggling to deal with an increase in historical child abuse cases, after the BBC obtained figures indicating arrests in such cases had fallen.
The number of allegations rose by 70% after Jimmy Savile's past was widely publicised, but arrests fell by 6% over the same period.
The NSPCC said it was concerned about the difficult choices the police faced.
The Home Office said police forces were determined to "stamp out" child abuse.
Under a Freedom of Information request, the BBC's 5 live Investigates programme obtained figures for the number of historical child abuse allegations that were made to 28 police forces in the six months between November 2012 and April 2013 - the period after ITV's Exposure documentary about Jimmy Savile.
The same set of figures was obtained for the same six month period a year earlier.
'We have to prioritise'
Greater Manchester Police (GMP) was one of the forces that provided figures. It saw a 121% increase in allegations of historical child abuse over that period - from 109 to 241.
At the same time, the number of current sex cases the force has to deal with has also risen, intensifying the workload on the GMP's rape and sexual crime unit.
Detective Inspector Neil Charnock said it was often necessary to target limited resources at current sex abuse cases because of the need to gather scientific evidence.
"We obviously have to go and capture the scene and recover the evidence before we lose it, before it becomes contaminated."
More recent cases "can sometimes take priority over some of the more historic cases where we know we're not losing any forensic evidence," he added.
"It is not an ideal scenario to be in but ultimately we have to prioritise the cases."
He went on to explain that officers try to determine what level of risk an alleged offender may still pose in historical cases - when deciding where it falls in their list of priorities.
'Abhorrent crime'
UK-wide, forces said 1,204 allegations were made in the first six-month period, compared to 2,044 in the second - an increase of 70%.
The BBC defined historical allegations as those which occurred more than 10 years ago.
"Forces are struggling with the increased number of allegations that have been made and are struggling with their own capacity to handle those," said Jon Brown from the NSPCC.
He said he was concerned about the workload some of those forces faced and that they were having to make some difficult decisions about which cases they investigated first.
Kent Police saw a 211% increase in historical allegations between those two periods, from 55 cases to 171, while Suffolk's caseload rose from 25 to 61.
BBC Radio 5 live also obtained figures from 22 police forces comparing the number of arrests that were made in historic child abuse cases between the same two six month periods.
The figures show that while the number of allegations were going up, the number of arrests for historical child abuse over the same period fell from 434 to 407 - a reduction of 6%.
"Other factors in relation to these figures could be potentially some caution by the police about not wanting to be seen to be engaging in a witch-hunt," said Jon Brown from the NSPCC.
"The police have possibly been cautious about moving to arrest and charge until they are absolutely clear about the volume of evidence they've got."
A Home Office spokesperson said: "Child sexual exploitation is an abhorrent crime which this government is determined to stamp out.
"The police are more engaged, aware and determined to identify victims.
"We will continue to work to ensure victims are not left to suffer in silence and ensure that those who exploit them are brought to justice."
5 live investigates will be broadcast on Sunday, 6 October at 11:00 BST