GCHQ Belgium hacking claim 'has to be probed'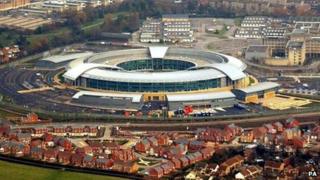 The European Parliament is right to probe claims that UK spy agency GCHQ launched a cyber attack on a Belgian telecom firm, a British MEP says.
Allegations GCHQ attempted to hack into Belgacom - whose customers include the EU offices in Brussels - were revealed in documents leaked by Edward Snowden.
Labour's Claude Moraes said it was "only natural" there was an inquiry.
Britain said the EU did not have the power to investigate. GCHQ says it works within a strict legal framework.
The head of GCHQ, Sir Iain Lobban, did not turn up to give evidence at Thursday's European Parliamentary Inquiry, which is tasked with investigating the extent of the alleged electronic mass surveillance of EU citizens.
'Unusual allegation'
Representatives from Belgacom, which provides internet services and telecommunications across Belgium including to the EU and its institutions, did attend Thursday's inquiry.
Geert Stadaert, vice president of the firm, told the inquiry its experts "sounded the alarm about anomalies in Belgacom's networks" in June.
The company said it had discovered malicious software in its systems.
Mr Stadaert said Belgacom had no information about the perpetrator or the motive.
But German magazine Der Spiegel reported that documents provided by former US defence contractor Edward Snowden contained details of "Operation Socialist" - GCHQ's alleged code name for an attack on Belgacom's systems.
Der Spiegel said the aim of the alleged operation was to enable Cheltenham-based GCHQ to launch "Man in the Middle" attacks.
These could have enabled it to intercept communications between two parties, read and potentially change them without either side realising.
A spokesperson for the intelligence agency said it would not comment on media stories about leaks or on intelligence matters.
Mr Moraes, MEP for London, said: "In every member state, including the United Kingdom, MPs and representatives are being asked to investigate these allegations and it's only natural that in the European Parliament that happens as well.
"You have allegations of the UK spying on Belgian telephone systems which were part of infrastructure for the European Union.
"I think that's quite an unusual allegation and of course it can't just stand, it has to be investigated."
Belgacom has passed its information onto the Belgian prosecutor who is investigating.
Mr Snowden sought asylum in Russia after disclosing classified documents to the Guardian newspaper revealing details of US surveillance activities.