Blind and partially sighted people 'trapped at home' due to poor pavements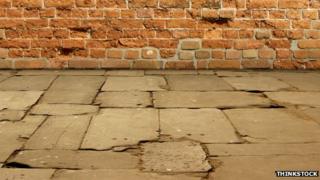 Blind and partially sighted people are often reluctant to leave home because of the "dreadful" state of Britain's pavements, a survey suggests.
Guide Dogs UK asked more than 750 blind or visually impaired people and found almost two-thirds had tripped or stumbled while walking.
The charity said two out of five feared going out because of damaged surfaces, leaving them "trapped" at home.
Councils said they were "committed" to ensuring pavements were "safe to use".
Guide Dogs said UK councils had spent more than £46m in compensation since 2009 for injuries to pedestrians relating to poorly-maintained pavements.
It called for dangerous pavements to be prioritised.
Chief executive Richard Leaman said: "Guide Dogs is determined to help people with sight loss get out independently and with confidence, but this is being undermined by the dreadful state of our pavements.
"Councils must prioritise dangerous pavements if blind and partially sighted people, as well as people with other disabilities, are to have the same freedom as everyone else."
He went on: "For many, it can be the difference between being able to set out with confidence or being trapped at home."
The research also highlighted problems with advertising boards, wheelie bins and badly parked cars.
Guide Dogs is calling for new laws to prohibit parking on pavements other than in specific areas permitted by local authorities.
A spokesperson for the Local Government Association said: "Councils know that the condition of pavements is a key priority for residents and are committed to making sure they are safe to use by all pedestrians.
"The fact that pavement maintenance spending has remained at more or less the same level in the face of cuts in local government funding that will reach 43% by 2015 is proof of that commitment.
"The deterioration of our roads and pavements is down to decades of underfunding from successive governments, recent severe winters and widespread flooding.
"Councils want to bring them fully up to scratch but need a fairer funding deal and greater government investment to allow this to happen."