Benefit cap faces High Court challenge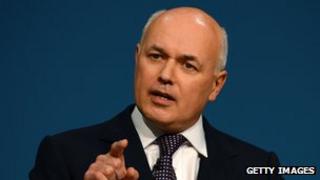 Three families are challenging the government in court in a bid to prove its benefits cap is unlawful.
Two High Court judges are being asked to rule that a welfare payment limit introduced by Work and Pensions Secretary Iain Duncan Smith breaches the human rights of unemployed parents.
Claims by couples and single parents are now limited to £500 a week.
The Department for Work and Pensions said the cap was a "fair limit" in line with average household earnings.
It limits the total of housing benefit, child benefit and child tax credit paid to claimants who do not work enough hours to qualify for working tax credit.
Lawyers acting for three children and their mothers, who all live in London, say the "cruel and arbitrary" cap could be catastrophic and has left them in fear of poverty.
Ian Wise QC, appearing for the families, said as he began the case that capping could result in families receiving state assistance "below destitution levels".
Two charities, the Child Poverty Action Group and Women's Aid Federation, are supporting the legal challenge.
They claim the cap could reduce the income of some mothers to a level that makes it impossible to provide adequate food, clothing and other essentials.
A legal team for the Department for Work and Pensions (DWP) will submit that it is "manifestly justifiable to make savings, and seek to reduce the fiscal deficit, by capping benefits at the level of average earnings".
Before the hearing on Wednesday, a DWP spokesman said: "We are confident that the measures are lawful.
"The benefit cap sets a fair limit to what people can expect to get from the welfare system - so that claimants cannot receive more than £500 a week, the average household earnings."
The application for judicial review is being heard by Lord Justice Elias and Mr Justice Bean at the High Court in London.