Energy Minister Michael Fallon urges support for new shale gas wells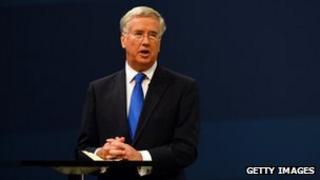 Energy Minister Michael Fallon says it would be "irresponsible" not to support firms trying to access shale gas, while predicting dozens of test wells will be drilled over the new few years.
Mr Fallon also warned MPs against opposing shale exploration in their constituencies.
One of the methods for extracting shale gas, known as fracking, has prompted environmental concerns and protests.
Mr Fallon said up to 40 new wells could emerge within two years.
Speaking to BBC Radio 4, he said: "We know from the study we did in the summer that we've got twice or three times as much shale as we originally thought, so we need to do everything we can to make sure they can explore as soon as possible the potential for getting it out.
"I think we're going to see maybe 30, 40 wells drilled over the next couple of years to see what the real potential is - whether this gas can be got out easily as they have been getting it out in the United States and whether they can get it out as cheaply as they have got it out in the United States."
Energy bills
Challenged on whether successfully accessing shale reserves would lower household energy bills, Mr Fallon said: "We can't be absolutely sure, but the potential is obviously enormous."
Fracking is only one technique for reaching shale gas deep underground and some of it could be released using core drilling, he said.
Anti-fracking protesters have begun dismantling a protest camp in Balcombe, West Sussex, where energy firm Cuadrilla has finished test-drilling for oil.
The cost of the policing operation, which has lasted more than 65 days, is expected to reach £4 million.
Mr Fallon said MPs must support testing in their own areas and that companies must "engage with the community and explain what they're doing" to quell concerns.
"We are sitting on top of an awful lot of shale so I don't think colleagues can be picky about this and say they're not going to have it in their constituencies" he said.
"We can't just say it can only be extracted in Lancashire or in the North East."
Mr Fallon called for more home-grown energy supplies, adding that the UK was last self-sufficient for gas in 2004.